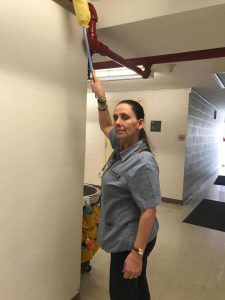 Welcome back!  My goal is to educate and excite you about all that Goodwill does for our community and what it can possibly do for you and/or your business!  If this is the first blog you have read in this series, please feel free to see how it all got started from my first entry here.
This week's Business Services Employee Spotlight is focused on Carrie Besaw.  Carrie is a top performer on one of our Federal custodial contracts in Martinsburg, WV.  She has been a member of our team since 2015 and has proven in that time to be an asset to both the customer and Horizon Goodwill!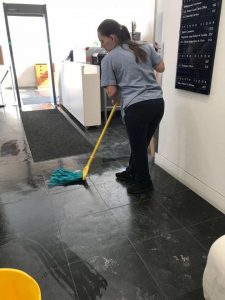 You can't always control what happens to you in the workplace (or life for that matter), but you do decide how you react.  Two of the greatest assets an employee can offer is a positive attitude and the drive to see the team succeed.  Carrie demonstrates these qualities daily and stated, "You have to make your work place happy and keep a positive attitude to succeed".
Her supervisor, Tammy, enjoys working with Carrie.  Carrie is willing to learn new things, goes out of her way to make sure the job is done, and is always willing to help.  Tammy said, "Carrie is a hands-on person who is willing to try anything."
Thanks Carrie, for all that you do to make us all shine!
Thanks for reading!  Please feel free to contact me with questions or comments regarding the blog or what our Business Services division can do for you!  bmarks@goodwill-hgi.org