Welcome back!  My goal is to educate and excite you about all that Goodwill does for our community and what it can possibly do for you and/or your business!  If this is the first blog you have read in this series, please feel free to see how it all got started from my first entry here.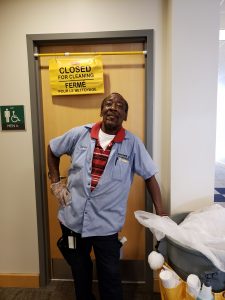 This week's Business Services Employee Spotlight is focused on Clarence Drew!  Drew is a team member on our custodial contract with the ATF&E in Martinsburg, WV.  This Federal partnership provides an opportunity for sustainable full-time employment in the community we serve.  This Federal site always looks spotless thanks to all the hard-working individuals on our Horizon Goodwill team.
Finding a job can be tough.  Most of you reading this have at one time or another experienced how frustrating it can be to be willing to work, but unable to find a good fit with an employer that can utilize your skills.  Drew's story is no different.  It is our mutual good fortune that he came to our Martinsburg Resource Center looking for an opportunity.  Finding work opportunities is at the heart of what we do and it was not long after initially connecting with Goodwill that we were able to put Drew into his current role.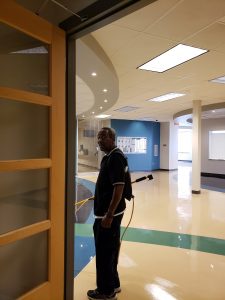 Drew is now a Custodial Crew Leader on this contract.  In this role he has leadership responsibilities as the first-tier oversight on the work being done for the ATF&E.  This opportunity has helped Drew achieve his potential and grow his dignity back after living without a job.  One of Drew's specialty is hard floor care.  The floors at this job site shine thanks to his efforts.  This creates a better work environment for us and our customer.  When asked what Drew likes most about the job, he responded "I enjoy working with the team".  His supervisor is extremely happy with Drew and stated, "it is a real pleasure to work with Drew as he is very detail oriented".  Pride in a job well done is what makes Drew and the team successful!
Thanks for reading!  Please feel free to contact me with questions or comments regarding the blog or what our Business Services division can do for you!  bmarks@goodwill-hgi.org