Roy Swim has taken a big step toward breaking the vicious cycle of homelessness.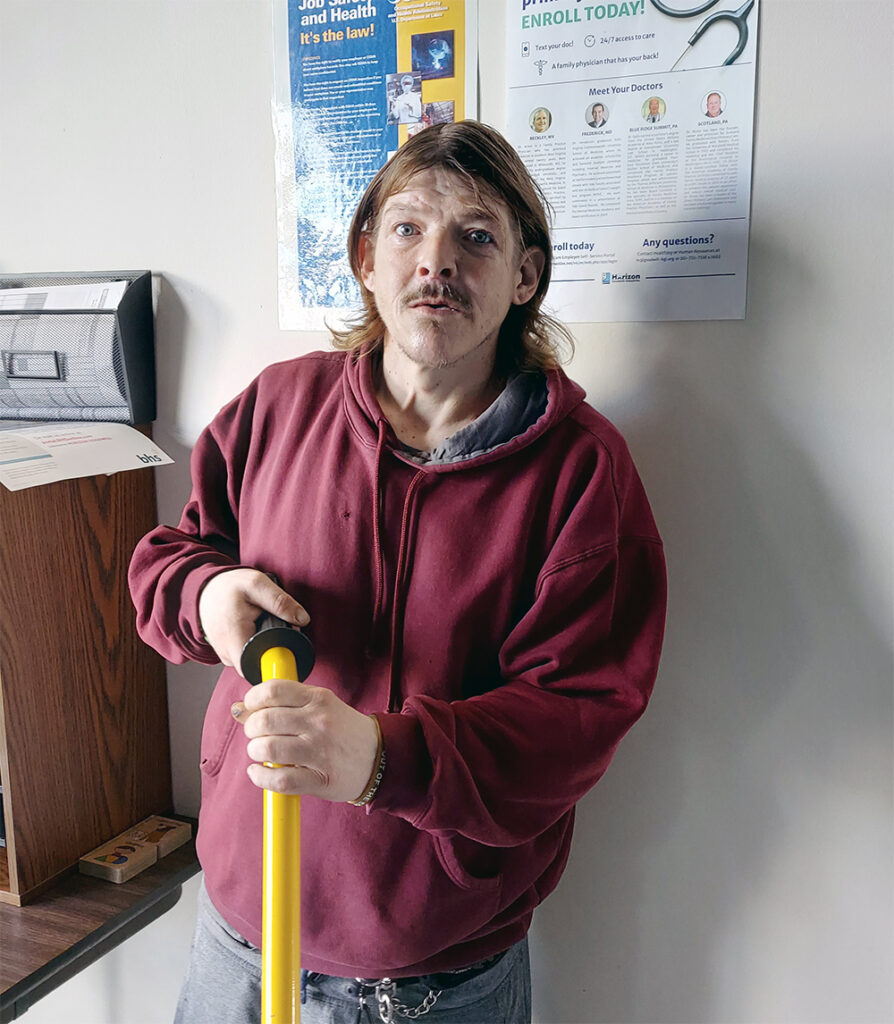 by Christopher Six, Media Marketing Assistant
For Roy, panhandling had become easier than finding work. It became a routine. Apply for jobs, then hit the streets to make some money to survive. And then, the next day, do it all over again.
"It became a vicious cycle."
Roy had dealt with homelessness and unemployment in Asheville and later in Hagerstown.
"A lot of it was due to my addiction," says Roy, adding he battled addiction for about 20 years. "It's a long time. A long, long time."
Roy's journey took a turn when his family relocated. He said the new school district felt that, at 17, he was too old for ninth grade.
"I was actually kicked out of high school. I was 17. I was still a freshman when my parents relocated. My dad was the one that really relocated. Then the school that he took me to said a 17-year-old has no business being in ninth grade," he explains. "They wanted me to try night classes or alternative schooling because I would have been 21 before graduating. And after that, I just went to work and got my first job at McDonald's. Then Taco Bell, and it just progressed from there. I've done a lot of cooking throughout my life."
"I went through some things down there and some homelessness. Almost got to the point where it became chronic."
Roy has three children. It was his son that brought him to Hagerstown.
"He was 14 then, and I wasn't in his life. I decided that I wanted to get into his life. So I packed up, hit the Greyhound, and came up here," he explained. "It was a quick relationship. I probably shouldn't even have had him, but it is what it is."
In Roy's words, his son was "a little guarded." The boy's mother helped Roy get a job at McDonald's, where he stayed for a few years, but he found advancement difficult, which he believes was because he was considered family and there was a fear of favoritism. So, he moved on.
Roy stayed "all over the place" — people's basements, people's couches.
"Some nights, I was on the streets. Everything got worse once I quit working. And then I found this little thing called panhandling," he said. "I went up to Dual Highway and put up a sign one day, and I made $300, and I was like, wow, people really, really helped me out. And I used that to get me into hotels, and buy dinner and do everything else."
It was a lot easier than the alternative.
"Finding a job is a full-time job, without a doubt. We would go to the library, put one or two applications in every morning, and then we go and try to make our money for the day," he explains.
"If somebody came to us with five bucks, we accepted it. If they came to us with lunch meat, sandwiches, you'd see many churches do that," he added. "Many people go up to Sheetz and get you an MTO soda and sandwich. Bag of chips. By the end of the day, we had groceries, money, and pretty much everything we needed to make it. Some people would bring us blankets and sheets, and pillows. A guy brought me shoes because I had holes in my shoes…"
It became routine. Apply for jobs, and hit the streets to make some money to survive. And then, the next day, do it all over again.
"Thank God — I forget how — Homeless Outreach came up to us and told us about the program," he said.
The Homeless Outreach program is a community initiative called; Change the Way You Give. It provides an opportunity to help individuals suffering from homelessness through financial support from community agencies rather than encouraging panhandling. If you would like to give to the program, click here.
"And that's exactly what happened. " Roy says they did exactly that and everything they said they would do," Roy says. "It was Goodwill; it was Reach, it was Turning Point; it was a wholly collaborative effort by everybody."
Roy had befriended Kara Armstrong on the streets, and together, they came to Horizon Goodwill. Kara won the Bennett S. Rubin Graduate of the Year award. It was presented to her at the 2022 Power of Work Awards Event. Watch her story here.  https://youtu.be/5JsvWnKjEt0
Roy met Wes McCulley, then an Associate Director of Workforce Development, who introduced him to Sherry Lescalleet, the regional custodial manager, who offered him a job.
And soon, they had a lead on a place to live.
"A supervisor that worked here at the time said, 'Hey, my landlords have an opening in the building, why don't you guys save up some money, and I'll take you up and introduce you," he explains. "We talked about it and spent $300 a week in a hotel room. And so we started saving as much money as possible."
They met with the landlord. The place was a couple of weeks away from being ready, giving them more time to build their money. "We gave him what we had to hold the apartment, and we just started saving, saving, saving — working."
Roy has now been with HGI for about 18 months. He has a home. He has a job. And he has been clean for almost two years.
"It's hard to be homeless, and the drugs at that point were really to cope. It sucks to have no place to go. Nobody to go to. We literally had nobody," he recalls. "We would panhandle until we made our money for our room, and that was upwards of, like, $80 a day, some days: some days, $100. So between the two of us, it was exhausting to be out there panhandling all the time. Not fun. Not fun at all."
To others who may be facing similar struggles, Roy offers some simple advice.
"Get out. If you need it, there are people out there that will help you."