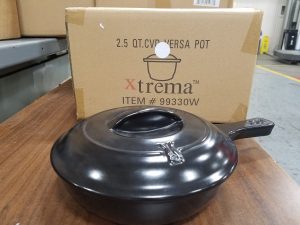 Welcome back!  My goal is to educate and excite you about all that Goodwill does for our community and what it can possibly do for you and/or your business!  If this is the first blog you have read in this series, please feel free to see how it all got started from my first entry here.
This week I am writing about s special professional partnership.  One of the best things that can happen in my line of work is to see a vendor relationship develop into a partnership.  When it grows from simply providing a service to having a sincere concern for mutual success, both parties come out ahead.
Horizon Goodwill has been fortunate to have such a relationship with Ceramcor.  We are their sole international distribution channel for their line of ceramic cookware and associated products.  They are a company that believes in us and we believe in them.  There is a level of trust and understanding that transcends the typical contract arrangement.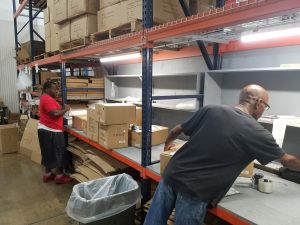 From time to time, Ceramcor will have product that cannot be sold online.  In those cases, they make these a donation to Goodwill.  We in turn put these items in our stores and our customers get a chance to experience this amazing product at a fraction of the retail value.  A few pots and pans are always appreciated, but recently we received a donation that goes above and beyond.  When Ceramcor made a business decision to discontinue their line of ceramic mugs, they donated them to us.  3,872 of them!

This donation will translate into retail sales that will go a long way to support our employment programs and operations.  This level of generosity is just one example of what makes Ceramcor such a great partnership.  If you would like to see their full line of offerings, please visit them here and support a business that values giving back to their local communities.
Thanks for reading!  Please feel free to contact me with questions or comments regarding the blog or what our Business Services division can do for you!  bmarks@goodwill-hgi.org