Shopping at our thrift stores is about the thrill of the hunt.
Each store sells a wide variety of new to gently used clothing, household items, furniture, books, and toys at affordable prices. Inventory is ever-changing, with thousands of items added to the retail sales floor daily. So, if you see something you like, buy it while you can. It might not be there when you come back. All merchandise is organized by department, and clothing is sorted by color for easy browsing and shopping.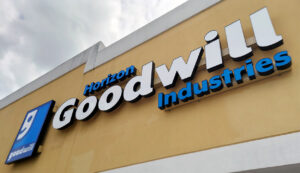 Color of the Week and 99 Cent Sunday
We offer 50% off clothing during our weekly Colors of the Week sale. The clothing featured at 50% off is indicated by the color of the plastic barb or tag on the item*. Prices are reduced every Monday, and the colors rotate each week.
Every Sunday, the outgoing Color of the Week items are deeply discounted to just 99 cents! Just another example of the great value you can expect at Goodwill.
One-of-a-kind treasures… that special pair of shoes or that stunning dress for date night… maybe it's just the great everyday prices on clothing, housewares, furniture, books, and knick-knacks for the whole family. No matter what you're looking for, you'll find it at your local Goodwill store. Goodwill carries name-brand merchandise, and inventory on the sales floor changes daily… so shop often.
Locations
Visit your local Goodwill store, and we're sure you'll agree that shopping at Goodwill is the most fun shopping experience in town!