Donate to Horizon Goodwill
By donating and shopping at Goodwill®, you are helping people in your community. Horizon Goodwill Industries puts 90¢ of every dollar spent in our stores right back into job training and other programs. We help those who want to work, but have barriers to employment, achieve success.
Download Our Donation Information
Donation Information
We'll gladly accept donations at any of our stores, as well as our drive-through attended donation centers. Please be sure items are in clean, usable condition. To protect your donations, please do not drop them off after store hours. For store locations and hours of operation, please get in touch with the nearest location.
Goodwill gladly accepts the following:
Men's, women's, children's, and infants' clothing and outerwear that are clean and free of tears, stains, pet hair, and odors. Vintage or new items with tags are welcome.
Accessories in good condition, including: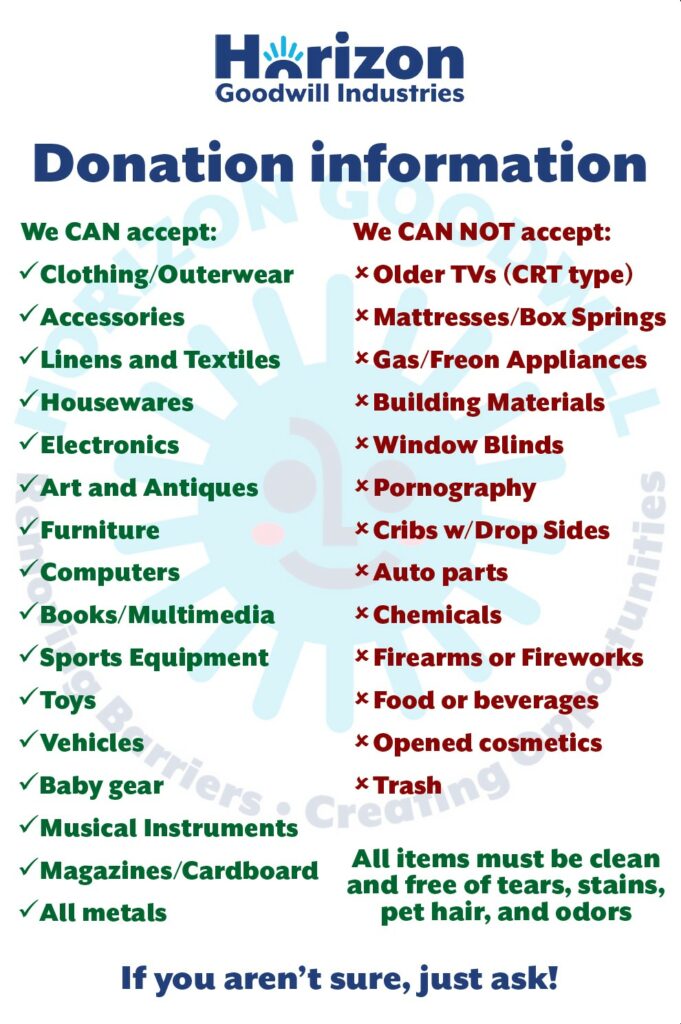 Shoes, belts, handbags, and briefcases
Hats, gloves, scarves, and ties
Jewelry
Linens and Textiles, clean and stain-free, including the following:
Bedspreads, blankets, sheets, and towels
Curtains and draperies
Small area and throw rugs
Decorative and throw pillows that were not used for sleeping
Housewares in good and working condition, including the following:
Dishes, glassware, and silverware
Cookware, including pots, pans, lids, and utensils
Baskets, tins, Rubbermaid, Tupperware, and other storage containers
Pictures, frames, and decorative knick-knacks
Office and school supplies; general use tools (no large machines)
Medical aids such as walkers, shower seats, wheelchairs, crutches
Electronics in working condition and with all parts, including cords:
Radios, stereo systems, mp3 players, VCRs, and DVD players
Small appliances such as toaster ovens, Foreman Grills, coffee makers, and vacuum cleaners
Microwave ovens in working condition
Lamps and fans that are CPSC approved (visit http://www.cpsc.gov/ for more info.)
Lawn equipment (all fuel must be removed before donating)
Art and Antiques
Mass-produced items, signed pieces, and collectibles of any kind, including books, and comic books
Furniture that is clean and in good, sellable condition, free of pet hair, and not ripped or torn.
Sofas, loveseats, chairs, recliners, desks, kitchen furniture, ottomans,
Coffee tables, side tables, dining sets, china cabinets,
Credenzas, bookshelves, nightstands, etc.
Computers
All brands, all peripherals, in any condition
Software programs less than two years old
Gaming systems (Nintendo, Sega, etc.)
Books and Records
Vinyl records, cassette tapes (including books on tape), CDs, and video games
Hardback and paperback books
DVDs and VHS movies
Sports and Exercise Equipment
Bicycles, golf clubs, tennis racquets
Treadmills, stationary bikes, ab rollers, etc.
Toys
All items must be CPSC approved
Dolls, stuffed animals, toys for infants through teens, and sealed games and puzzles
Baby equipment CPSC approved (visit http://www.cpsc.gov/ for more into.)
Cars, Boats, Recreational Vehicles, Trucks, and Motorcycles.
Owners must present the title or proof of ownership as required by law. Donate Your Vehicle Today! Call 866-233-8686 or click the button below.
**Goodwill representatives make the final decision on what is acceptable.
We're sorry, but we cannot accept
Televisions of any make or model
Used mattresses and box springs
Excessively large/bulky items such as swing sets, swimming pools, unbound carpeting, and large area rugs, pianos, organs, etc.
Large appliances that use Freon or Gas
No refrigerators, air conditioners, gas stoves, gas dryers, etc.
Building and plumbing materials
Windows, doors, garage doors, shutters, sinks, tubs, toilets, fixtures, fencing,
gutters, lumber concrete, bricks, stone, and paint
Window blinds with cords
Anything of a pornographic nature
Any item(s) covered in animal hair
Baby furniture, toys, and games that do not comply with CPSC safety standards (http://www.cpsc.gov/)
Baby Cribs
Software older than two years old
Auto Parts
Tires, wheels, batteries, car radios, etc.
Any chemical (oil, wiper fluid, etc.)
Firearms and fireworks
Food and beverage
No textbooks more than five (5) years old, no magazines or encyclopedias
Opened cosmetics and perishable hair care products
Any trash or combustible material
Items that are wet, mildewed, rusty, flammable, or in any way dangerous
Items that do not comply with Consumer Product and Safety Standards
(1-800-638-2772 or http://www.cpsc.gov/ )
**This is only a partial list; for more information, please contact the nearest location.