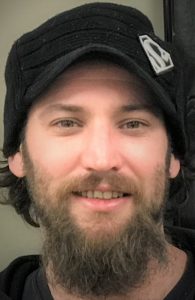 "Character" is one of Horizon Goodwill's core values.  Ricky Listman, a Baler at our processing center in Cumberland, Maryland, has a lot of it to share.
Ricky's path to success began by attending an open enrollment meeting in Cumberland. He was determined to find a way to achieve his employment goals and was certain that the Goodwill training program could help him break down his reported barriers. Ricky's made ends meet as a self-employed laborer completing odd jobs as opportunities arose. This type of work presented gaps in employment, so he was unable to build an effective resume.  Additionally, sporadic jobs didn't allow him the means to obtain reliable transportation. Following his completion of the "Get, On Board!" class, Ricky was offered a temporary training position as a truck helper in October of 2017.
Most of Ricky's previous work was completed alone.  His new position helped Ricky to obtain on-the-job training in a work environment where he could be an active member of a team. Ricky quickly started to shine in this position and managers from other departments quickly took notice.
In December of 2017, Ricky's vocational case manager informed him of an opening for a Baler in the Processing department. This position would offer Ricky many new opportunities including, a transition from part-time to full-time. Ricky applied for the position and was hired as a permanent core employee!
Ricky is a Maryland native.  He was born in Anne Arundel County but spent most of his childhood on the eastern shore in Caroline County. When he is not working, he loves spending time with his grandmother and working with his uncle on houses. When he is not enjoying family time, he loves building computers, playing music, and shooting pool.
When asked what he likes about Goodwill the most, he said "They provide help to those who want to try to change their lives." He loves his job, and the people he works with. He is very enthusiastic about full-time employment as he says it's very difficult to find, especially when you have barriers.
Ricky is appreciative and very proud of his accomplishments at work.  His success in the training program, his desire to work, and his new job has afforded him many opportunities.  It has opened doors he never expected, like becoming a home owner in the upcoming month.  Ricky Listman is the true definition of "continuous improvement."