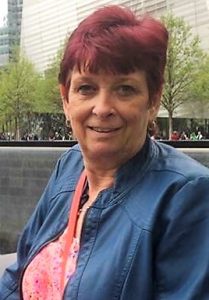 Let's take a moment to celebrate one of our own.
Cindy Weaver was promoted to Western Regional Custodial Manager in June 2017. She began working with Horizon Goodwill Industries (HGI) as a Custodial Crew Leader in August of 2014. Cindy was hired to run the morning van crew, who were responsible for cleaning several area businesses. With her new position, her responsibilities include overseeing the State Highway Administration contracts in Allegany and Garrett Counties, the Youghiogheny rest stop, DLLR in Cumberland, the morning van crew, and the cleaning crew in our Cumberland office.
Cindy was born and raised in Cumberland, Maryland. As an adult, she relocated to Ridgeley, West Virginia. Cindy has been married to her husband Ed for 39 years. They have 2 daughters and 6 grandchildren.
In her free time, Cindy enjoys playing skill pool in leagues which she has been doing for 28 years, spending time with her dog Alvin, attending her grandchildren's baseball/softball games, and she is an avid Pittsburgh Pirates fan.
When asked what Cindy liked most about Goodwill, she replied:
"I love my job. I like the people, and it's a fun place to work. I also enjoy being able to cultivate new custodial contracts, which allows me to meet new people and learn the stories behind them."
When asked why she loves her job, Cindy said she enjoys seeing her employees grow and overcome barriers. Cindy has always enjoyed watching the Special Olympics and now she is able to cheer on her employees as they compete. She says, "it's very rewarding to see how they have gained confidence from work and, in turn, apply it in their personal lives. It's an honor to see them achieve their goals."
We wish Cindy continued success and are looking forward to her continued professional growth.