The Story Behind Black Out Nuts & Pretzels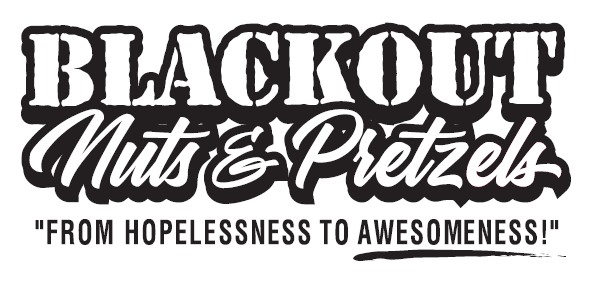 Almost seven years ago, I was diagnosed with a Complex Mental Illness. So severe that it took my therapist a year and a half to realize I was telling the truth about what happened over ten years. Once she realized the truth, I slowly started making progress. However, this hasn't always been the case.
When I entered therapy, I couldn't get out of the batter's box. Like so many other Mental Illness sufferers, my mind was "locked and fixated" on the events that happened. The desire to run toward 1st base was there. However, at the end of the day, as night fell, it was just the baseball bat, my empty bottles of beer, and myself, still standing in the batter's box. It was the most frightening, paralyzing experience of my life. Days turned into weeks, weeks turned into months, and months turned into years.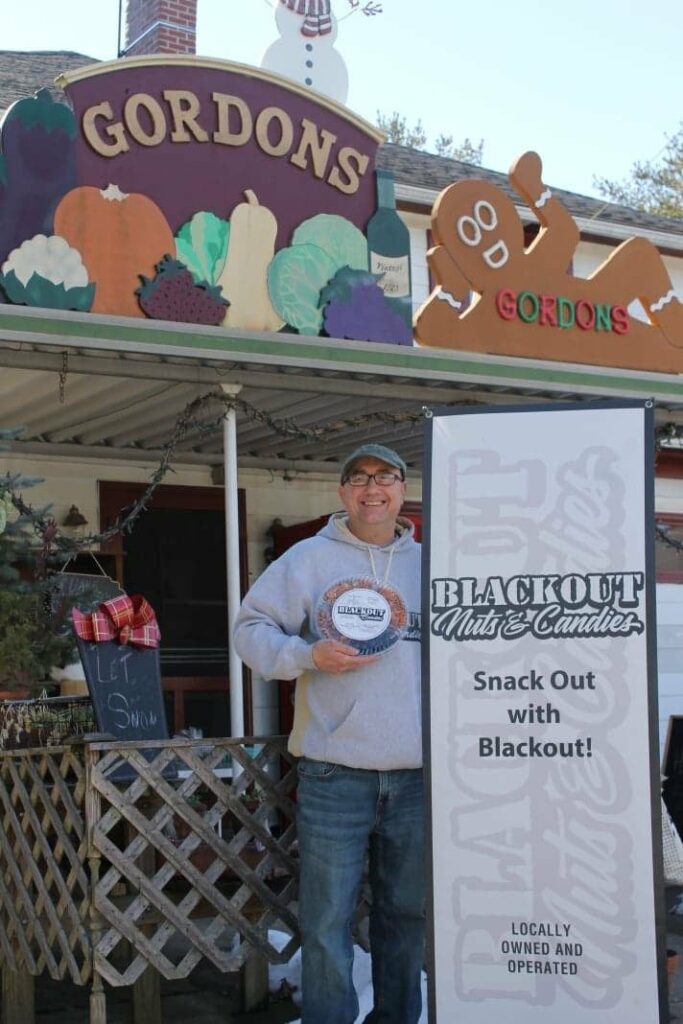 With therapy, I've had to basically train and educate myself on terms like triggers and being aware of my surroundings. It's been so frustrating and debilitating being a college graduate and still sluggishly moving forward. The battle you have with your mind is so brutal. I can really relate to our military, who come home from the service, and everyone else becomes puzzled as to why they can't adjust to civilian life.
Personally, the weight of my Mental Illness has definitely taken its toll on my life. I haven't worked in almost seven years. I'm still unemployed, financially surviving from my almost depleted IRA, and living in a disability apartment complex. To add, I receive food stamps, and I'm currently appealing my SSDI decision for the 4th time. In total, over the past seven years, it's cost me well over $50,000 out of my personal IRA to get back to this point in my life. That doesn't include the lost wages, etc.
However, this isn't the life I want to live. As stated above, I'm college educated, well-liked, and have a rock-solid group of friends. What I don't have, sadly to say, is any family support. My family has basically disowned me for not working. So much so that someone anonymously sent me a t-shirt in the mail that read, "I'm not lazy; I just enjoy doing nothing." In other words, if you're not military, your Mental Illness claim is a lie, you're lazy, and you're full of shit.
My response is to change the world's perception and become the Susan Komen of Mental Illness. That's why I founded and created "Blackout Nuts and Pretzels" because of people like my family, who ignorantly feel that Mental Illness is only acquired thru military combat. The cruelty of my family giving up on me still haunts me today. You don't abandon someone who's been diagnosed with a Mental Illness, regardless of how you personally feel toward a person. It's a silent killer and a life-and-death situation. I live on the 10th floor with a balcony and no one in my family calls, texts, comes over, or checks in on me. Apparently, no one was listening when I said my therapists had their concerns about me traveling down Suicide Road.
Yes, I've responded very well to outside therapy because of my strong roots and work ethic. However, suicide can claim anyone's life; ask the Robin Williams family. Who would've thought that one of the greatest comedians of our generation would have taken his own life? That's why my therapists call me extraordinarily resilient, because, somehow, I can separate myself from all of the ignorance that has surrounded me.
My world-class therapists have successfully taken me from out of the batter's box to 3rd base. With my life skills and resiliency, I know I can safely make it to home plate by myself. And now, it's time to put my vision into action.
Blackout Nuts and Pretzels, which I created and founded, will be able to help other Mental Illness sufferers. We are in 14 stores around the Hagerstown area, and yes, everything is trademarked and patented. We've sold well over 20,000 bags in just over two years without any advertising or marketing. A few months ago, we could finally put up a generic Facebook page together.
I'll have to monitor my Complex Mental Illness throughout the remainder of my life. However, for the most part, I've made it to home plate. Now, I want to help others who are in the same situation and don't have the family support they need. They, as well, deserve to touch home plate and score a run for their respective team.
I've been very fortunate to have had an IRA that's allowed me to focus on my outpatient therapy. However, that's quickly coming to an end. My heart goes out to those who's had to stop therapy and return to work prematurely because of financial issues. They were not able to "Visualize a Victory." Worse yet, someone's spouse, life partner, or family has given them an ultimatum to "just get it together, or I'm leaving!"
That's where Blackout Nuts and Pretzels can step in and provide some hope and inspiration for that individual. If Blackout Nuts and Pretzels takes off, I'll be able to help my therapists, and other health professionals develop a 12-step program for Mental Illness sufferers, much like they have for alcoholics. My therapy, although very appreciative, isn't enough. Having a patient talk in an office for an hour (twice a week) and releasing them out into the world isn't enough. I want to make the road to recovery much, much easier for someone else.
My therapist, after getting to know me and seeing my progress, broke everything down for me. She said in her profession; they look for ten major Trauma categories. She went on to say, "When a person has checked off on 4 of those boxes, they are 3,000 more times likely to commit suicide than the average person." She looked at me and said these words I'll never forget, "Mark, you checked off on 7 of those boxes, and you're still here with us!" At that moment, for the 1st time, I knew why she kept repeating throughout our sessions, "Mark, but you're still here with us." To be honest, I've actually checked off all 10 of the trauma categories, she hasn't "Connected the Dots" with my other therapists yet. However, just on those seven, she calls me a MIRACLE to still be alive. I know, without a doubt, the word MIRACLE isn't used very often in a therapeutic setting.
I'm sorry, I have to take a break. That was very tough to write without breaking down and crying a little. Fast forward, I owe a great amount of gratitude to my childhood friends. At the lowest point in my life, I believe they are the reason I survived. When I was staring into the darkness, hence the name Blackout Nuts and Pretzels, I could always escape and remember the wonderful, innocent times we shared. It's absolutely true; the most powerful nation in this world is your own IMAGINATION. Speaking of imagination, I've been thinking about changing our slogan to "A Nut, Selling Nuts!"
My vision is to rename a few of my products after those who have inspired me throughout my journey in life. For example, when you see my Elizabeth's "World Famous" Seasoned Pretzels, they're named after my beloved therapist. Others, such as my Patrick's "Homestyle" Crabby Nut Mix, are named after the child you'll read about later in my letter.
With your help, I want to bring Blackout Nuts and Pretzels mainstream because I know I can help many folks. Someone, eventually, will be living in apartment 1003 at Potomac Towers other than myself. Why not, thru Blackout Nuts and Pretzels, give that person $1,000 to help restart their life?
My words can't express how I feel toward the Hagerstown Housing Authority. Putting a roof over someone's head after they've lost everything is probably the greatest gift I've ever received in my life. Being able to overlook Hagerstown, and hit the reset button, has been absolutely priceless. Seriously, how many people are given that gift?
The greatest legacy I can ever leave this world is to become the Susan Komen of Mental Illness and hand my gift off to as many Mental Illness sufferers as I can. If accomplished, I know I will have made my Mom and Dad, as well as my therapists, very proud of me.
If successful, I will have also achieved another lifetime goal of mine. You see, years ago, I worked as a Child Care Associate for over ten years of my life at Cedar Ridge Children's Home. I gave those kids, who are now grown men, absolutely everything I had. It wasn't easy; a lot of times, they didn't like Mr. Mark because disciplining them was one of my responsibilities.
However, a couple of years ago, at a very low point with my Complex Mental Illness, I ran into one of my kids. He hugged me and said three times, "Thank you, Thank you, Thank you!" I get goosebumps and start crying every time I think about it.
He didn't know, nor has anyone really known what I've been thru mentally over the past 17 years. Yet, that night, I promised myself that later in life, he'll definitely be part of my will/estate. With Blackout Nuts and Pretzels, I may be able to bless this kid (grown man) beyond his wildest imagination. Life lesson, when someone gives great effort in anything, you say thank you. That's what he did. And for that reason, he will be financially taken care of if I'm successful with Blackout Nuts and Pretzels.
Sincerely, Mark A. Smith, Owner of Blackout Nuts and Pretzels