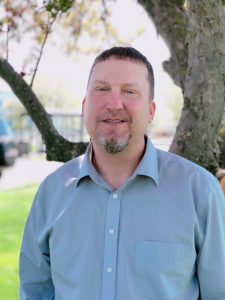 Administrative Professionals day was April 25th,, so we'd like to take a moment to celebrate one of our own administrative professionals.
Brian Selby, has worked behind the scenes in our Accounting Department for over 30 years. His Goodwill journey began in January 1988 when he was hired as an Accounting Clerk.  He has worked his way up to Senior Accounting Clerk, where he works diligently to process payroll, new hires and employee changes. Most would say that Brian has one of the most important jobs in the organization; afterall, he is the person that makes certain our employees get their paychecks!  He is also responsible for other accounting duties, including accounts receivable and accounts payable.
Thirty years is a long time with one employer.  When asked what keeps him with Horizon Goodwill Industries (HGI), Brian said, "All of the values at HGI align with the values I have in my own life: passion, character, celebration, service, and compassion. It is great to work for an organization that share those same values."
Brian has enjoyed watching HGI go through a positive transformation over the years. When he joined the team in 1988, there were less than 100 employees. At that time, all processes were manual and there were no computers. Fast forward to today: HGI has had upwards of 700 individuals on payroll at a time, we have streamlined many processes, and have expanded our utilization of technology.
Brian takes a moment to reminisce:
It is amazing to think about the amount of lives that have been impacted by Goodwill throughout the years. 

I used to hand out the pay checks to our clients downtown and I would always look forward to it. The smiles and high fives that I would get from these individuals just for simply handing them their check made me feel really proud that we are able to provide them with sustainable and meaningful employment.

 The opportunity I've been given to serve others, has been very rewarding.  It's something I enjoy and have experienced personal growth from doing so. Goodwill has been there for me during different times in my life. Goodwill has helped me recognize my own barriers and find ways to overcome them."
Aside from having a passion for what he does here at Goodwill, Brian has many different hobbies and interests. Born and raised in Hagerstown, MD, Brian has a passion for all sports: baseball, football, hockey, you name it! He enjoys hunting and fishing, and likes to visit different baseball stadiums across the country.  He also enjoys the vacation time that he uses in the summertime to hang out with his 16-year-old son, which is a great perk!
His plans for the future include continuing to grow and adapt in his role with HGI. He is also looking forward to watching his son graduate from high school and college.
Horizon Goodwill Industries would like to recognize Brian for his 30 years of service. We appreciate his dedication, hard work and passion for Goodwill, and we are looking forward to celebrating his continued success in the future!