What does being able to work mean to you?  What does is it mean to have a job?  These questions got me thinking, so before I share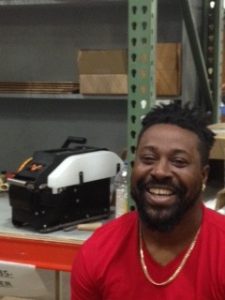 what our #GoodwillJobSquad says about the meaning of work, I'll share a quote I like from Pulitzer Prize winning author and historian, Studs Terkel, who wrote the book Working:
"Work is about a search for daily meaning as well as daily bread, for recognition as well as cash, for astonishment rather than torpor."  (Torpor meaning a state of physical or mental inactivity; lethargy – thank you Wikipedia!) 
Simply put: a job is a paid position requiring a group of specific attributes and skills that enable a person to perform tasks in an organization (a combo definition from a few different sources: Webster's, Wikipedia, and my experience).
Put less simply: a job is something that can fulfill you personally, economically, socially, and professionally.  People often look to their passions or their experiences to inform their choice(s) in work or career.  We ask ourselves: what do I want to do?  Or, what would I be good – or better yet: successful – at doing?
We asked our some of our #GoodwillJobSquad what being able to work means to them.  In nearly every instance, people told me it is more than a job; more powerful than a paycheck.  Lindsay (left) has been working on Horizon Goodwill's AMVETS Career Center initiative and work for her means she can take care of her beautiful children, showing them you can do anything you put your mind too.  Ksawn (above) admitted that keeping a job is as difficult as finding one, but it is "hard work that keeps you going and that allows you to see your life more clearly."
What does being able to work mean to you?  Tell us by visiting our Website or sharing your comments on Facebook and Twitter, #puttingpeopletowork.  And, keep an eye out for more workforce wisdom from the #GoodwillJobSquad.