Did you know that you could come to a Goodwill Store and Career Connections Center to get your GED??  It's totally true – keep reading!  If you are scratching your head, don't feel bad – we didn't think it was possible either.  But today, 36 individuals are enrolled in GED, Adult Basic Education and ESOL classes offered by Lord Fairfax Community College (LFCC) at Horizon Goodwill's Winchester, VA location.  Students have improved their literacy, math and communication skills with 8 students completing their GED!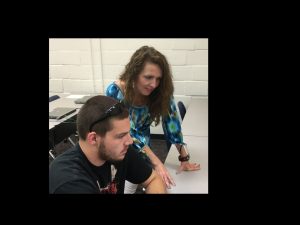 Passing the GED, or the General Educational Development examination, is becoming more and more important — it can expand your employment opportunities or increase your wages or allow you to go on to college.

There are many people who do not have a high school diploma. If you are one of them, it is a good idea to think about earning a GED.
A GED will open up new possibilities for you. Take Stacey Beehler, just one of our Goodwill GED success stories, who began her studies at Goodwill which allowed her to transfer to the PluggedIn Virginia program and complete her GED.  In 4 short months, February to May, Stacey achieved the following: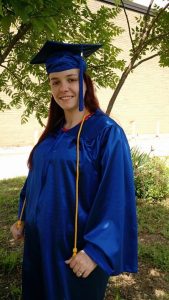 13 college credits – earned the LFCC Career Studies Certificate in Medical Office Administration
Career Readiness Certificate – silver level, re-testing to achieve gold level
GED completion
Passed exam to earn the national credential of Certified Medical Administrative Assistant (CMAA)
Microsoft Digital Literacy certification
Capstone project
Soft skills and professional skills development
Next term, Stacey is continuing at LFCC to begin a nursing program.  Major success story – and it started at Goodwill!
Another student who got his GED by attending classes at Goodwill earned 1 of only 3 scholarships set aside by LFCC just for GED graduates.  He is currently employed by Valley Health and will use the scholarship to continue his studies in the medical field.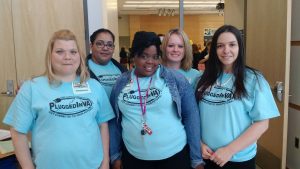 By offering free GED and ESOL classes at Goodwill locations, individuals can now focus on their education AND employability.  Thank you to the Adult Education teachers, the LFCC staff and Goodwill Team for all your hard work changing people's lives – together we are "Removing Barriers and Creating Opportunities"! (PS to Western MD: Starting this August, we will be hosting GED classes at our Cumberland Goodwill Career Connections Campus in partnership with Allegany College of Maryland!)