Welcome back!  My goal is to educate and excite you about all that Goodwill does for our community and what it can possibly do for you and/or your business!  If this is the first blog you have read in this series, please feel free to see how it all got started from my first entry here.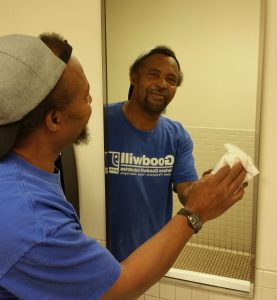 This week's Business Services Employee Spotlight is focused on Roger Cook. Roger is involved in several of our State custodial contracts.  Roger joined our team in January of this year.  On the job, he quickly proved that he was a trusted team member and in June of the same year he was promoted to the position of Custodial Crew Lead!  In this role, he helps oversee the custodial crews at various contract sites and ensures that the work is being performed up to the contract specifications.  Additionally, he acts in a supervisory role in situations where his full time supervisor is not available.
Roger was having difficulty finding and keeping a job.  Sadly ,he found that many companies did not want to take a chance on an older worker.  It was then that Roger sought out assistance from Horizon Goodwill!  Through the services her received, he was given the tools and the confidence he needed to succeed.  Roger is very grateful for the supports he has received.  By having a supervisor her can look up to, Roger has a role model to emulate and is able to better support himself.  Through this relationship, he is able to continue to grow and our customers get great service!
Our Custodial Business Manager, Matt Nugent, has taken notice of his attitude and work ethic as well.  When asked about Roger's performance, Matt said, "Roger has been an ideal employee, always willing to pitch in where needed.  His work is outstanding and whenever I ask him to accomplish something, it always exceeds the expectation.  He is a pleasure to have on our team and I am delighted to work with him."
Thanks for reading!  Please feel free to contact me with questions or comments regarding the blog or what our Business Services division can do for you!  bmarks@goodwill-hgi.org