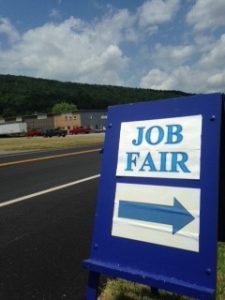 Do you remember your first job interview? The nerves? The hope? The uncertainty? Well, we're here to help! Horizon Goodwill Industries hosted our very first "Mock Job Fair" – an event our clients have lovingly come to call "job interview boot camp"!
Six local employers plus Goodwill staff and volunteers helped Horizon Goodwill's job seekers get experience preparing for and participating in mock interviews. With their assistance, 17 Goodwill clients worked to improve their interviewing skills, receiving feedback on appearance, presentation, attitude and communication skills.  (Spoiler Alert: 1 employer is calling at least 2 individuals back for official interviews!)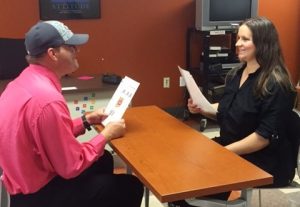 Hosting a Mock Job Fair was the idea of Tarrah and Lea, two of our Vocational Case Managers at Goodwill's Cumberland Career Campus.  They thought of it after many of the individuals who are currently in Goodwill programs AND actively trying to find a job, expressed how their nerves can get the better of them once they are sitting across from someone that wasn't a familiar Goodwill face.  The idea of having community employers participate as volunteer interviewers allows job seekers a more realistic interview and a chance to work through those pesky nerves and jitters that come with experiencing something unfamiliar.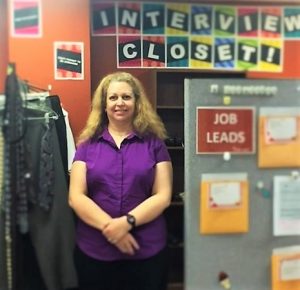 Goodwill job seekers were excited about the opportunity to not only get constructive feedback from a true hiring manager, but also to reinforce all their hard work and turn their training in action. In preparation, we made sure each Goodwill job seeker had a clean and grammatically correct resume, an interview outfit from Goodwill's Career Closet, and an understating of what they wanted to achieve by participating in the mock interviews.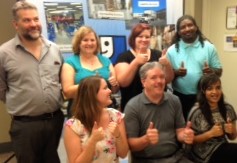 Goodwill would like to thank Brea Washington, HR Director at Rocky Gap Resort and Casino, Michelle Thomas, HR Director at Friends Aware, Ken Wise, Career Counselor at Center for Community Action, Sean Santmyire, Job Services Specialist at the Department of Labor and Licensing Regulation, as well as Hunter Douglas and M&T Bank.  By volunteering their time, these professionals and area businesses are helping job seekers realize and achieve their fullest potential and helping Goodwill advance our mission of "Removing Barriers and Creating Opportunities" for the people we serve. Thank You!
How comfortable are you with a job interview? Wouldn't you love to have someone give you feedback about your interviewing skills so you can ace that interview?  For more information, feel free to give us a call at 301-733-7330, or check out our website.  And, it's always a good idea to follow us on Facebook and Twitter.