Horizon Goodwill Industries is honoring Sign-Zone, Inc. as Business Partner of the Year at this year's 61st Annual Power of Work Awards Dinner. The dinner is being held at Fountainhead Country Club at 7:00pm on May 4, 2016. This event is held each year as a way for Horizon Goodwill Industries (HGI) to celebrate organizational accomplishments, individual success stories, and acknowledge business partnerships that have helped HGI achieve its mission. CEO, John McCain said, "The business relationships we have with companies like Sign-Zone allow us to serve our community better and create more job opportunities for our clients."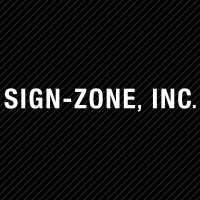 Sign-Zone, Inc. has been instrumental in helping Horizon Goodwill Industries fulfill its mission in 2015.  This business partnership has allowed HGI to provide training, work, and income to members of the local community that face a variety of barriers to employment. "The skills these Goodwill clients have learned through their work with Sign-Zone, Inc. have helped them to prepare to go out into the competitive job market.  This is a direct value add to the HGI mission of 'removing barriers, creating opportunities'," said McCain.
One of the biggest successes of this partnership has been the ability for HGI to train its clients to achieve higher-level skills.  As an example, HGI trainees have been able to benefit from the ability to become licensed forklift operators through their work on the Sign-Zone, Inc. account.  Another skill HGI has been able to develop is enhanced computer skills via the online order receiving and retrieval process they use in daily order fulfillment. McCain said, "For the Horizon Goodwill mission, it is fantastic to have a business partner that allows the HGI clients to grow in these capacities and increase their marketability in finding employment beyond their time with Horizon Goodwill."
Now that this pilot program in Hagerstown has been such a huge success for both companies, Sign-Zone, Inc. has reached out to other Goodwill organizations around the country for additional partnerships.
About:  Sign-Zone, Inc. is one of the fastest-growing, privately held companies in the country. Since their start in 1999, they have grown into a multi-million dollar domestic manufacturer of visual communication, event collateral and promotional display merchandise. They offer products and services to the promotional product, exhibit display, and sign/printing industries.
HGI serves people in Maryland, Pennsylvania, West Virginia, and Virginia and is able to support needs that could otherwise go unmet in local communities. Goodwill's vision is helping people achieve their full potential through the dignity and power of work. The 61st Annual Power of Work Awards Dinner is open to the public. For information about Horizon Goodwill visit http://www.horizongoodwill.org or to purchase tickets for the dinner, please visit www.goodwillawards2016.eventbrite.com.