Welcome back!  As you may know, my goal is to educate and excite you about all that Goodwill does for our community and what it can possibly do for you and/or your business!  If this is the first blog you have read in this series, please feel free to see how it all got started from my first entry here. 
Last week I was able to visit Berry Plastic's location in Cumberland, MD.  While their operation is global, we are fortunate to have one of their manufacturing facilities right here in our region.  Berry is all about making customized plastic containers that exceed their customer's expectations.  It is a very impressive operation that I was fortunate enough to tour while on site.  Safety is their first priority and even guests that are just passing through undergo safety training and are required to follow the same safety protocols as workers on the floor.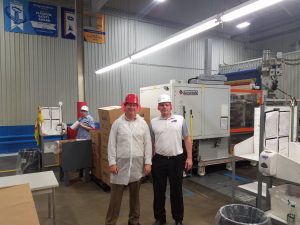 As with most modern manufacturing facilities, automation and efficiency are the name of the game at Berry.  While most of the work there is done by machine, there are still areas that require a human touch.  Berry has been partnered with Horizon Goodwill for several years to handle some of this hands on production work.  Interestingly enough, placing handles on these plastic buckets cannot be done efficiently by machines and that is one of the core functions of our staff on the ground.  We also are asked to get involved with various re-work projects that require a careful, hands on inspection of production materials for defects and blemishes.
This work give our clients in the Cumberland area a great workplace opportunity.  They learn about the importance of quality control and safety in the workplace.  It is not uncommon for our clients to graduate from our training program and go on to become full time employees of the facility.  This is a great win for both our mission and for Berry Plastic's recruiting effort.  We are proud to be partnered with then and look forward to continuing this partnership for many years to come!
Thanks for reading!  Please feel free to contact me with questions or comments regarding the blog or what our Business Services division can do for you!  bmarks@goodwill-hgi.org