Welcome back!  As you may know, my goal is to educate and excite you about all that Goodwill does for our community and what it can possibly do for you and/or your business.  If this is the first blog you have read in this series, please feel free to see how it all got started from my first entry here.
All bu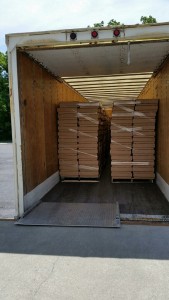 sinesses have small parts of their operation that go largely unnoticed by the public.  Millions of people shop at KOHLS and likely take the distribution chain for granted.  So how do all of the items get from various distribution centers to your local KOHLS to be put on the sales floor?  Tote boxes!  These same boxes are then reused to send hangers from sold garments back to the distribution centers.
Horizon Goodwill partners with KOHLS through a 3rd party to provide the assembly of these boxes.  Last year we assembled over 35,000 of these totes!  This work gives our clients job experience working on a team as several individuals work together to complete each box.  Not only is this job physically demanding work, it also involves training on machinery.  Learning how to work with machines improves job readiness for future opportunities that our clients may engage in in the competitive workforce.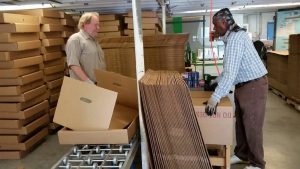 So the next time you are at a KOHLS register and you see a hanger tossed into a cardboard tote, think about Goodwill and the job training that we perform daily to help individuals remove barriers to employment.
Thanks for reading!  Please feel free to contact me with questions or comments regarding the blog or what our Business Services division can do for you!  bmarks@goodwill-hgi.org