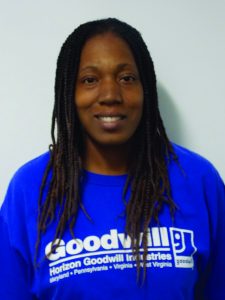 Santana, "Sandy", Benbow started with Goodwill in August 2016 in the Donated Goods Retail division.  She began as a lead pre-sorter in the processing department on Pennsylvania Avenue in Hagerstown, MD and was promoted in August 2017 to Assistant Processing Supervisor.
Sandy is originally from South Carolina and has been residing in Hagerstown for 11 years.  She is the mother of two beautiful girls, Danika (6) and Devaeh (7).  In her spare time, she enjoys playing basketball, cooking, writing poetry, and spending time with her girls.
Before coming to Goodwill, she worked as an Assistant Restaurant Manager for 3 years and a stay at home mom.
When asked what brought her to Goodwill, she replied, "Goodwill has a reputation of being a good organization with good values.  Of course, I knew about the stores.  When I shopped, Ms. Collette at the Burhans store was always very helpful, friendly and interacted with everyone.  But then I started hearing about the different programs Goodwill had for individuals in the community.  The program for single parents really interested me.  Because I had always heard such positive things, when I heard about the Goodwill job fair, I jumped at the chance to work here."
Sandy went on to say, "I love working at Goodwill.  We are here to serve our clients by removing barriers and creating opportunities, but it's amazing how much they have taught me.  You never know what a person's story is and our clients have many.  I have learned how to work with individuals that have different barriers and developed patience that I never had before."
We are looking forward to celebrating Sandy's continued success!