Today we will turn our focus to Tammy Dawson to learn about her journey and Goodwill's role in changing her life for the better.  Tammy is the mother of two sons, Chris and Bill.  Events unfolded in their lives that landed them in the Hagerstown area.  Not knowing many local people and without any recent job references, finding employment was proving to be a real struggle.  Compound those barriers with a series of medical issues and it seemed that finding a job would be impossible.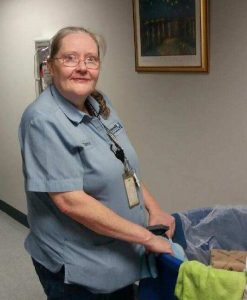 Fortunately, Tammy found out about Horizon Goodwill and came to us seeking services.  Through the intake and evaluation process, Tammy was able to work with our Mission Services team to get the tools she needed to be a better prepared job applicant.  "Coming to Goodwill in the trainee program gave me new hope and a better outlook for my family."  The most valuable results that she gained through the process were, "building better communication skills, self-esteem and self- worth."  The hard work was paying off.  Nothing prepares you better for success than the belief that you can succeed!
Tammy started off working in our production environment in 2012.  It was evident she was a hard worker and she quickly proved she could be successful.  In February of 2015, Tammy went on to become a custodial team member of our Washington County Department of Social Services crew.  She is a true value add to the team her supervisor reports that, "Tammy completes each task with pride and is always glad to help out where needed.  She doesn't let any of her medical issues interfere with getting the job done.  Her self- esteem and confidence have really blossomed."  We are thrilled to have her as part of the Horizon Goodwill family!
Horizon Goodwill does so much to help so many.  And there are so many more people out there for us to help!  Sometimes it just takes that first step before you are able realize your full potential.  This is why we are here.  This is what Horizon Goodwill is all about.  Removing barriers, creating opportunities.
Thanks for reading!  Please feel free to contact me with questions or comments regarding the blog or what our Business Services division can do for you!  bmarks@goodwill-hgi.org