Welcome back!  My goal is to educate and excite you about all that Goodwill does for our community and what it can possibly do for you and/or your business!  If this is the first blog you have read in this series, please feel free to see how it all got started from my first entry here.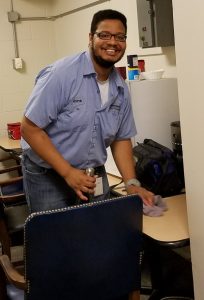 This week's Business Services Employee Spotlight is focused on Ricky Sample!  Ricky's Goodwill story started right after his High School career.  Back in 2012, Ricky participated in our "transitioning youth" program.  This program assists in taking kids straight out of school and ensuring they receive the tools and training required to make it on their own.  Part of this experience led to a community based job assessment for Ricky.  This opportunity placed him in a job with one of our community employer partners.  In this role, we were able to observe Ricky in a work environment to assess his job readiness.  His case manager was then able to provide Ricky with the supports he needed to become a great fit for any company.
Eventually Ricky's Goodwill journey presented him with a chance to work on our Federal Contract at the ATF&E facility in Martinsburg, WV.  Since 2014, he has been a proud member of their custodial team and is an exemplary employee.  Initially he was struggling with staying on task and required specialized instruction, but he has come a long way since then.  When asked to describe Ricky now, his supervisor stated that he is, "Dependable and he always pays attention to detail".  When we asked Ricky about what Goodwill has done for him, he said that "Goodwill helped me become more organized, keep on task, and to do stuff the right way".  We are proud of Ricky and all that he has been able to accomplish.  It is success stories like his that make Horizon Goodwill such a great organization to be a part of!
Thanks for reading!  Please feel free to contact me with questions or comments regarding the blog or what our Business Services division can do for you!  bmarks@goodwill-hgi.org