Welcome back!  My goal is to educate and excite you about all that Goodwill does for our community and what it can possibly do for you and/or your business!  If this is the first blog you have read in this series, please feel free to see how it all got started from my first entry here.

This week's Business Services Employee Spotlight is focused on James Taylor.  Back in 2012, James found himself in a situation where he needed a hand up.  Just like so many in our communities, drugs had found their way into James' life and had him on downward course.  Fortunately, he had the courage to do something about it.  James took up residency at the Wells House in Hagerstown, MD to engage their program to regain control of his life.  With the help and support of the staff there, he was successful in beating his addiction and was ready for the next step in his renewed life.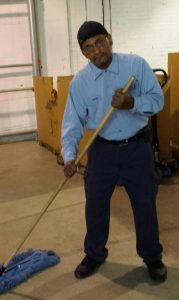 Reentering the work force from a situation like his is not an easy path.  Luckily, James had a girlfriend who was an employee at Horizon Goodwill.  She told him about our programs and how we could help him to get his life back on track and headed towards gainful employment.  James took her advice, entered our program, and he soon started earning a paycheck!
He joined our team as a production worker processing donations.  Before long, he advanced onto a commercial contract tied to our partnership with HBP.  By 2013, James was awarded a supervisory role on our Custodial team at Greenbrier State Park.  When this seasonal assignment ended, James was offered the Supervisor position on our Hagerstown State Contracts Van Crew.  In this capacity he has responsibility for ensuring that the Maryland State sites on this route present a high level of cleanliness.  He does a great job!  Both our internal leadership and the end customers love his work.
The gratitude goes both ways and James is grateful for what Horizon Goodwill has done to improve the quality of his life.  "Working for Goodwill has enabled me to have a productive life, take care of my family, and to grow".  Stories like his are motivating, inspiring, and the reason we at Horizon Goodwill do what we do.
Thanks for reading!  Please feel free to contact me with questions or comments regarding the blog or what our Business Services division can do for you!  bmarks@goodwill-hgi.org