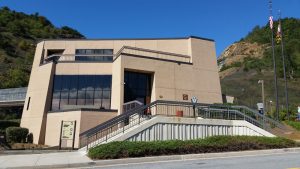 Welcome back!  Western Maryland has some beautiful sights to take in along the drive between Hagerstown and Cumberland.  The rolling mountains offer great vistas with scenery that changes with the seasons.  If you have ever stopped at the Visitor's Center at the top of Sideling Hill, you know what a geological gem it is to take in.  The sight of the rock striations are breathtaking.  If you enter the Visitor's Center, you will find an abundance of interesting information and you will likely get a chance to be greeted by the smiling face that is the inspiration for this week's blog entry, Debi Logeston!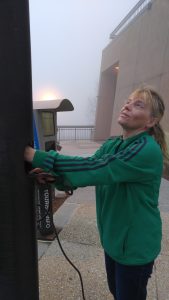 As a long time sufferer of back pain, Debi connected with Horizon Goodwill and found comfort in an organization that understands that barriers to employment are not the end of the road, but rather a challenge that can be overcome.  Beyond just helping to connect with a job, Debi realized that Goodwill could help her realize her full potential.  She would soon find that life with a disability and financial stability were not mutually exclusive.
Debi began work on the Sideling Hill project in 2006.  In 2010 she was promoted to Custodial Supervisor and then in 2013 Debi became the Site Manager.  She now manages a full staff that is responsible for the total facility management of both the East and West bound centers.  She not only has to manage her staff, but is also in charge of working with the State to procure all services needed to keep both sites operational and visitors happy.  Both the SHA customer and I agree that she does an outstanding job!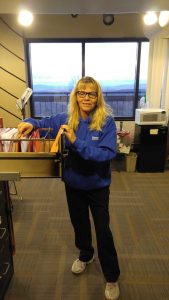 "Through my life I have suffered from back pain and in 2014 I was told I had severe anterolisthesis and bilateral spondylolysis and told what my limitation should be. Not that that slowed me down any, but working for Goodwill gave me the opportunity to continue work no matter what limitation I had."
Horizon Goodwill does so much to help so many.  And there are so many more people out there for us to help!  Sometimes it just takes that first step before you are able realize your full potential.  This is why we are here.  This is what Horizon Goodwill is all about.  Removing barriers, creating opportunities.
Thanks for reading!  Please feel free to contact me with questions or comments regarding the blog or what our Business Services division can do for you!  bmarks@goodwill-hgi.org