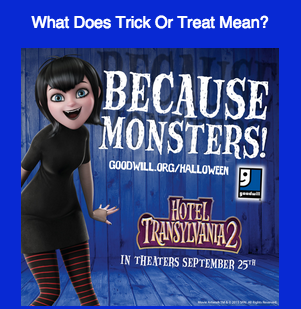 I can vaguely remember Third Grade, but I do have flashbacks to the amount of homework I was tasked with performing on a daily basis. Spelling words, multiplication tables and for some reason a report on the state of Kansas stands out in my memory. I'm talking real, hardcore, nose in the schoolbook type homework. Although I frequently use spellcheck and for the life of me can't multiply numbers past 10 without a calculator, I do recall wheat being the chief export of Kansas, at least back in 1978.
Homework has changed quite a bit since then, as my eight year old is tasked with performing online assessments and a lot more reading than I was subjected to. As I was signing off on her assignment agenda last night she handed me a permission slip for a field trip.
"What's this?" I asked. Kaitlyn smiled as she handed me a pen. "My class is going to see Hotel Transylvania 2 this Friday! Opening day! It's going to be so cool!"
"I see," I responded as I signed on the dotted line. " It's trick or treat time already, is it?" "Do you mean Halloween time, daddy?" I nodded in agreement as I handed her the signed permission slip. With those big, blue inquisitive eyes she asked, "Trick or treat…what does that even mean?"
You know, I tried to give her a straight answer, but as the words were coming out of my mouth I could tell they weren't making very much sense. It was then that I had one of my few-and-far-between good ideas.
It's No Trick—You Can Treat Yourself To A Better Community By Donating To Horizon Goodwill!
Kaitlyn pulled a chair up to my desk and we preceded to Google the history of Trick or Treating, which, as it turns out wasn't such a smart idea after all. "What does it say, daddy?" "Uhh..well..It's talking about…" The last thing I was going to do was tell my little girl about the superstition of placating spirits by wearing costumes to please them, and there was absolutely no way I was going to get into the spooky history of Halloween in general. No, I don't think Missy would appreciate spending the next few months sharing our already small bed with Kaitlyn… and the lights on to boot!
"Hey, Kaitlyn, what if I tell you what I think Trick or Treating means?" She nodded her head eagerly and I put my creativity into overdrive.
"Well, you know what a trick is, right?" Again, she nodded emphatically. "And we all know that treats are good things, wouldn't you agree?" "Yep!" Ok, so far so good. "So…Trick or Treat means…uh, you do something special…and…uh, you get a…treat?" Boy, was I blowing this!
"Yeah, daddy. It's kind of like when you told me I could take all of my old clothes that don't fit me anymore, and the toys I don't play with anymore, and donate it to Horizon Goodwill, right? The trick is that all that stuff turns into a treat!"
Wow, I have one bright little girl! "Yes, that's exactly right, Kaitlyn! And what is the treat?"
"That's easy! All that stuff, instead of taking up room in my closet, is sold to other kids, and the money goes to help people find jobs! We're helping treat people to find work. Is that what you mean?'
I was totally impressed by the thought process of this little girl! She so must have gotten this trait from her mother. "I couldn't have said it any better myself, baby. That's what Trick or Treating means to me."
"Cool! Can I have some ice cream?"
Ice cream? If she would have asked, at that exact moment in time, I would have went out and got her a pony! It's a shame she missed her chance, so ice cream it was!