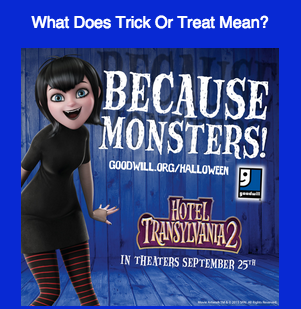 I can vaguely remember Third Grade, but I do have flashbacks to the amount of homework I was tasked with performing on a daily basis. Spelling words, multiplication tables and for some reason a report on the state of Kansas stands out in my memory. I'm talking real, hardcore, nose in the schoolbook type homework. Although I frequently use spellcheck and for the life of me can't multiply numbers past 10 without a calculator, I do recall wheat being the chief export of Kansas, at least back in 1978.
Homework has changed quite a bit since then, as my eight year old is tasked with performing online assessments and a lot more reading than I was subjected to. As I was signing off on her assignment agenda last night she handed me a permission slip for a field trip.
"What's this?" I asked. [Read more…] about So What Does "Trick Or Treat" Really Mean?