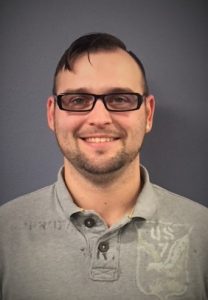 Let's take a moment to celebrate one of our own.
Johnathon Harrell, IT Manager at Corporate Center, has been employed with Horizon Goodwill since October of 2012.
Before coming onboard with Goodwill, Johnathon dealt with a history of drug addiction and was incarcerated in 2011. While incarcerated, Johnathon came to Goodwill as a client through the work release partnership between Horizon Goodwill and Washington County Detention Center. Upon his release from incarceration, Johnathon continued working and receiving services as a client through the job training program with Goodwill.
Johnathon started out his journey with Horizon Goodwill as a sorter in the processing department. From there, he learned how to operate the baler, was an E&M tester, and was then promoted to Lead Assistant/Aide. While working in the processing department as a client, Johnathon went back to college and earned his associate's degree in IT. His supervisor acknowledged his potential, and encouraged him to apply for a full-time core position. It was then that Johnathon was given the opportunity to work as an IT Assistant. During his almost three-year tenure as IT Assistant, Johnathon attended Kaplan University through evening, weekend and online courses to obtain his bachelor's degree in cyber-security. Johnathon was promoted to his current role of IT Manager in December of 2017.
Born and raised in Williamsport, MD, Johnathon has a passion for music and electrical engineering. His number one priority is his family: wife, Katie, and six children: McKenzie (17), Austin (13), Kailer (11), Mason (10), Landon (5), and Natalie (3). "Having been through the Goodwill program, I am now better equipped to provide my family and children a better quality of life."
When asked to share an experience that made a difference to him, Johnathon discussed his time working at the Apple Blossom Festival in Shenandoah County, VA. He states, "I have worked the festival for several years in a row. In working alongside current and past clients, I have witnessed firsthand their transformation. Their barriers are being faced head on and overcome. As a result, these individuals have a better quality of life. They are valuable, hard workers. The experience is always very rewarding, and I love knowing that I can be a part of that transformation for others."
Reflecting on what he's most proud of, Johnathon said, "I have been able to overcome my personal barriers and have achieved my dream of working in IT. I could not have done that without the support of Horizon Goodwill."
We are extremely proud of Johnathon's success and look forward to celebrating his future accomplishments as he grows in his current role.