Recycle the computer equipment you no longer need at Goodwill for free!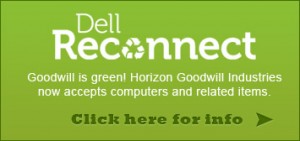 http://www.horizongoodwill.org/donate/free-computer-recycling/
Simply bring your donation to a Goodwill store.  We take care of the rest!  In addition to creating green jobs and keeping materials out of the landfill, proceeds from Reconnect help fund Goodwill training and employment programs in our community.
We accept a range of computer equipment and send it to an authorized recycler for proper de-manufacturing, thanks to our Reconnect Partnership with Dell Computers.
We make it free, easy and convenient to dispose of your unwanted computer equipment, regardless of brand or condition.
Donate computers.  Create Jobs.
Click here to find the Goodwill location near you.  http://www.horizongoodwill.org/shop/store-locations