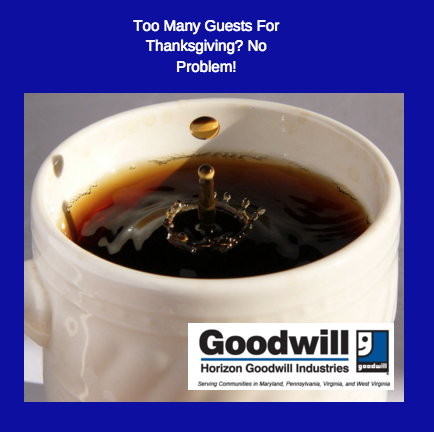 Coffee is one of life's simple pleasures I just can't do without. That's what was going through my mind Sunday morning as I waited for that delicious, caffeinated wonder to brew, tapping my fingers on the kitchen counter, staring as each excruciating drip fell ever so slowly into my mug. Maybe we should finally purchase one of those super fast brewers that make one cup at a time, but super quick for impatient guys like me—"Yes, of course you can all come for Thanksgiving!" Missy's excited voice snapped me out of my post sleep haze. I've been married a long time, and even without coffee I can immediately read between the lines of her vocal inflections. She was far from thrilled about whatever news she just received.
She hung up the phone, interlocked her fingers behind her head and strolled over my way where the java was brewing at a snail's pace. "They're coming", she sighed. I responded without taking my eyes from the slowly filling mug. "Who?" Her response sent a chill down my spine: "Everyone."
The More The Merrier This Thanksgiving—Horizon Goodwill Can Help!
"My brother, his girlfriend, Connor, Corey and his roommate, me, you, Kaitlyn and my parents! John, that's ten people for Thanksgiving! How are we going to seat everybody?" She pointed to our formerly humongous kitchenette table, the one that seated our little household of four so well. I could tell if I didn't talk her down she was not only going to explode with stress, the residual effect would have a negative impact on my Sunday afternoon.
"Ok, Missy, it's all good! I understand you told me when we purchased this table it was perfect, and I know you said we wouldn't need to invest in another one until we moved into a larger house, but that's ok, things change, right?" She gave me a partial stink-eye, so I knew what I was saying was sort of doing the trick. "Look, let's get this table and chairs into the van, we'll donate it to Horizon Goodwill and then see if they have any nice size tables at the Goodwill store."
She arched an eyebrow which seemed to eliminate the remainder of the stink-eye. "Really? You think we can find a nice size table at Horizon Goodwill?" "Sure, Missy, if we don't see any at the Martinsburg store we can check out Shepherdstown, and Hagerstown…there's always incredible furniture just looking for a new home."
A tiny voice piped in from the living room: "Yeah, Mommy, and the money we spend on a new table goes to help people learn about getting jobs!" That Kaitlyn, she's a smart one, but she loves to eavesdrop! "And Daddy, I have a box of books I already read that I want to donate, too!"
"So, what do you think, Missy? Kaitlyn wants to donate some books. We can head out right now."
"Sounds like a plan!", she exclaimed, and this time I knew she was sincere. "But first, I need my morning coffee!" She reached across me, took my mug, and headed off into the living room to watch SpongeBob Squarepants with Kaitlyn. It's ok, one of these days I'll win….Wait a minute! Did she say my in-laws are coming?!?