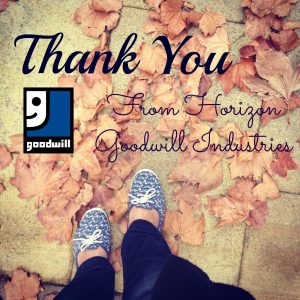 HAPPY THANKSGIVING!
During this time of year we are reminded of all the people, things, and opportunities we are thankful for every day. Whether they are big or small, November is the month we sit back and focus on the things that make us happy like music that makes us dance in our seats, a smile of a child, the first snow of the season, our annoying sister that we love so dearly, and the friends who are close to our hearts. Horizon Goodwill Industries wants to thank the people that have made a difference in our lives and the lives of the people we serve.
Horizon Goodwill Industries is an organization that believes in the potential of all individuals. We provide job training, skills development, and job placement services to those who are facing barriers to employment. All this could not be possible without you, our donors and shoppers, as well as our community and business partners. We give thanks to the people and businesses that help spread our mission. Thank you for your support.
Thank YOU for donating your 'stuff'!

When you clean out your closets, garages, book shelves, children's play rooms etc. and you donate items to Goodwill, that 'stuff' provides funding towards programs that help people learn specific skills needed for employment. Goodwill teaches individuals specific talents in order for them to succeed, find a job, and become more self-sufficient. Donate your old computer to be recycled! That computer is recycled not only for its parts but it also becomes a teaching tool.
Teaching individuals warehouse duties, packing and receiving. Donate your car and you could provide your community with about 100-200 hours of job readiness training! We are very proud to announce that Horizon Goodwill Industries has helped thousands of individuals in our programs with job training this year, but we couldn't have done it without your help! Thank you for your generous donations.
Thank YOU for shopping at Goodwill!
Did you know when you purchase an item at Goodwill 90 cents of every dollar goes right back into our job training programs? When you purchase your unique holiday sweater, those one-of-a-kind vintage items, and that old dresser that's full of character for a weekend long crafting project that money is providing individuals in the community with job training. Horizon Goodwill Industries wants to thank you for shopping in our stores and helping us help the community. Your loyalty to our brand and our mission does not go unnoticed. Keep calm and thrift on, shoppers! You are making a difference in your community every time you make a purchase and for that we are thankful. Thank you for your support.
Thanks to our community and business partners.
To our community partners, thank you for your continued support, collaboration, facilitation of events, and ultimately spreading our awareness of our mission throughout the community. Your support and belief in our mission is why we are able to do what we do. Just to name a few, this year the Bon-Ton raised over 42,000 lbs. during the two Bon-Ton Goodwill Sales. Thank you! We want to thank The United Way of Washington County for their support, providing volunteers during the Day of Caring Event, and The City of Hagerstown for being a facilitator with seasonal labor training programs and special event staffing.
To our business partners, thank you for allowing Horizon Goodwill Industries help your business develop. Our continued partnerships with HBP, Barry Plastics, Fil-Tec, Source America, Bloom, Cunningham Falls, Greenbrier State Park, Rocky Gap, The Maryland Theater, and Maryland Works are just a few businesses and organizations that have aided us in fulfilling our mission. Thank you for helping us. We are thankful for the ability to help your business prosper with our flexible workforce. Thank you for connecting with Goodwill Industries to enhance the quality of life for individuals with disabilities and disadvantages through the Power of Work. Thank you for hiring us.
Horizon Goodwill Industries believes in the Power of Work, but you, our supporters, are the ones making dreams come true. Happy Thanksgiving to Horizon Goodwill Industries Friends and Family and may 2015 be full of even more chances to give thanks!