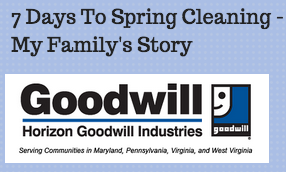 Wow, what a beautiful weekend we just had, right? And you want to know what really made it so rewarding? Missy, Kaitlyn and I did some serious spring cleaning, getting the house organized for the fun-filled summer to come! I'm getting a bit ahead of myself, though, as the story actually started a week ago Sunday.
As the Mrs. and I sat in our living room, sipping our coffee, watching as Kaitlyn played with her toys, I made the mistake of mentioning how, well, the house could be a bit more tidy.  No sooner did the words escape my lips than I knew I had committed a grievous mistake. Missy went into our home office and returned with pink notebook. What she laid out for the next seven days seemed like a ton of work, but, I must admit, as always—my beautiful, intelligent wife had a plan to make our lives much easier!
You Too Can Get Your Home Ready For Summer In Just Seven Days!
"I found this Spring Cleaning Game Plan online, and I took the liberty of customizing it to our place…and you're helping!"
How was I going to argue with such a determined spouse? "Ok, Missy, let's see what you got." She proceeded to lay out a day by day schedule for how we were going to perform our Spring Cleaning, and, I must admit, it worked like a charm! Listed below you will see our daily projects, simple tasks, actually, that you can do as well, leaving you with a less cluttered living space and a strong sense of pride.
Sunday
Do you know what we did that day to physically clean the house? Not much, but it just may have been the most important step in the entire process.  Together, we made a list of every room in our house, garage included, and decided which day we were going to tackle each project. Missy took three laundry baskets from the hall closet and labeled them as such:
Basket #1: Keep   Basket #2: Throw Away    Basket #3: Donate
Quite simple instructions, actually. "That's it?", I asked. "Yep. Now go ahead and watch your baseball, because we get started tomorrow after work. Agreed?" Sounded good to me!
Monday
As promised, when I got back from work we started working the plan, beginning in our bedroom. We went through everything in our closets, in our drawers; under the bed, over the bed, even between the bed!
Once completed we went into Kaitlyn's room, which, surprisingly, was pretty organized already as she had taken care of getting things straightened out a few months back. When were finished, we placed the clothes, shoes and linens we were keeping back into the closest and drawers very neatly. There wasn't much in the "throw away" basket, just some torn jeans and a few pillowcases with holes, so those went right into the garbage can out back. What was left in the "donate" basket was placed along the wall in the garage.
Tuesday
After a long day at work I wasn't too keen on sorting through the kitchen items, but I'm a man of my word. It's amazing to discover all of the things you can accumulate that you think you'll use but never actually do! I didn't bat an eye as Missy placed that guacamole set, never used, still in the box, into the donate basket. Mismatched glasses, an old electric can opener I may or may not have purchased as an anniversary gift also didn't make the cut. All in all, it took us about an hour to blow through this room—and when we were finished it almost looked like one of those kitchens you see on a cooking show.
Wednesday
Driving home I was actually looking forward to sorting through our living room items. I had a slightly used DVD player that was just sitting on a shelf—state-of-the-art when I bought it, but I made the jump to Blu Ray as soon as they came out on the market. An avid reader, I also had several novels I knew I would never read again and placed them in the donate basket as well. Missy was actually very proud that I was so eager to clean up the living room, she actually offered to watch a baseball game with me that night. She never does that! Yeah, I was enjoying how this spring cleaning experiment was going!
Thursday
Imagine my surprise when most of the home office was already sorted and clean by the time I came home.  There were a ton of old paperwork, several boxes in fact, that Missy was adamant we couldn't just throw away. I knew just how we could handle safely getting rid of them, reminding her that Horizon Goodwill offers secure document shredding services to local businesses. For as many full boxes as we had, I was pretty sure I could get these papers taken care of at a very reasonable rate. We all sat down for a nice take out dinner and discussed how well this spring cleaning was going!
Friday
I can't imagine many people would want to spend their Friday night organizing their garage, but that's just what we did! We had a good time, listening to the radio and sorting through the old storage boxes, tools and bicycles we now longer needed. When we were finished, Missy pointed out all the items we had gathered from each room, all lined up neatly along the garage wall.  "Ok, Johnny, best you go get some sleep as tomorrow we're going to Horizon Goodwill and donating all of this."
Saturday
And that's what we did! The three of us got up early, packed up the van with all of our donations and drove to our local Horizon Goodwill store.  It felt great knowing not only did we get our house organized in just under a week, but we were also helping our friends and neighbors receive valuable job training through Horizon Goodwill; nearly 90% of proceeds from all items sold go towards funding this incredible service!
And you know what we did for the rest of the weekend? We relaxed…together…as a family! We went for a walk, played outside with Kaitlyn and the neighborhood kids—even cooked out on the grill! And Missy let me prepare a steak! No veggie burgers for her doting husband this weekend! Yeah!
My advice to you, Dear Reader? Don't be afraid to get your home organized for spring. It's easy, fun and rewarding as you're not only helping yourself, you're helping others!