by Christopher Six, Media Marketing Assistant
Much of Shawnee's life has been a struggle. Lifelong difficulties with reading and writing have made it difficult to find and hold on to a job. But working as a cashier at Horizon Goodwill's Shepherdstown location has truly been an exercise in removing barriers to create opportunity.
Originally from Fairfax County, in school Shawnee found herself in special classes she describes as akin to a sixth-grade level.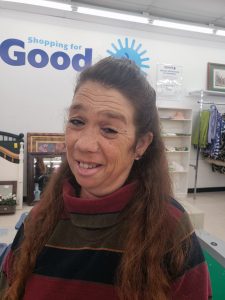 "My biggest problem is reading and writing. I can read better than I can write," she explains.
"I can't really write nothing because I don't know how to spell — it's a disability," she continues. "I always had problems in school, (but they) didn't address it back then. They had me in classes, but I don't think they had the IEPs (Individualized Education Programs) back when I went to school."
Regardless, Shawnee really didn't want to participate, because she felt there were students in those classes who were in more difficult situations than she was.
"I was that age, you know, I didn't want to be in there. So I skipped a lot, and then, when I turned 18, I quit like an idiot," she laments. "I have dreams every once in a while that I go back to school. And I'm like, so old in my dreams, I always end up quitting."
Life after school led to a succession of jobs, but her reading and writing difficulties often held her back. At one point, she recalls applying for disability, only to find her application denied as her condition did not qualify.
"It's very hard for me to fill out paperwork and explain my learning disability," she explains.
A recent move to West Virginia found her in a familiar situation — struggling to find work.
"I had a lot of things going on. I lost my license and lost my place to live," she said. "Someone let me and my daughter live with them since Corona was going on."
Ultimately, she received help via the West Virginia Jobs and Hope program, training that eventually brought her to the Horizon Goodwill Shepherdstown location, where she was hired in January as a cashier.
It's a job that she likes, and she strives to be a dependable employee despite challenges at home, including family and health issues. Shawnee has a 32-year-old son and a soon-to-be 16-year-old daughter.
She takes particular satisfaction in her customer service skills, noting she receives compliments on how she interacts with shoppers. A lifetime of experience has prepared her well, and it's work that plays to her strengths.
"I don't have a lot of issues here because we don't do a lot of reading except when we have our meetings," she said.
And Shawnee takes pride in the store's reputation.
"We hear every single day this is the nicest store around," she said. "We always get complimented on our store, because we work hard in this store to make it look nice."
After a year-and-a-half living with someone else, Shawnee now lives in Inwood, about a 30-minute drive from Shepherdstown. With a housing voucher in hand, she also has the option to get out of her lease when something becomes available. While two dogs and the crunch in the housing market have made that challenging, she tends not to look too far ahead.
"I don't have any goals. Every time I make goals, they go down the drain, so I go day-by-day," she said.
Still, Shawnee is aware of the opportunities that have come her way, particularly in the last nine months. While at first, she shied away from talking about Horizon Goodwill's round-up program for fear she would get tongue-tied, she's an advocate now.
"I ask just about everybody who comes to my register," she explained. "If they ask, 'well, what is it for?' I tell them it's to help the local job program — I went through it back in January and look at me now!"