by Christopher Six, Media Marketing Assistant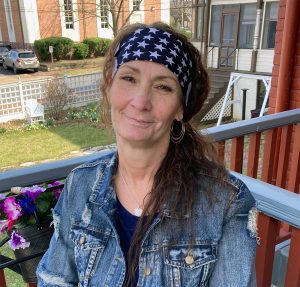 Jennifer knows a thing or two about overcoming addiction. More than once, she has recognized it in herself and used that as motivation to make a change. Now 10 months sober, it's Horizon Goodwill she credits with giving her the opportunity to get her life back on track.
"I've struggled with addiction on and off all my life. I've pretty much got myself finally free from that, I believe," she said in a recent interview. "I rebuilt my life. At one point I didn't have an apartment, job, or a car and I have gained all that back from myself."
The Cumberland native didn't have the easiest of childhoods, her mother suffered from schizophrenia. Despite the difficulties at home, however, she graduated from high school, marrying in her senior year.
"Somehow, I managed to do that. I don't know how, but I did," she explains. "I got married in high school. That was pretty much another downhill for 20 years."
While others pursued their post-high school dreams, Jennifer's goal was to take care of her family.
"I became pregnant a year and a half after the marriage. We just started the family, and I pretty much was home with the kids while he worked," she said.
Drugs became a form of self-medication.
"In my 30s, there was cocaine and prescription drugs. I've been free from that for 13 years," she explains, saying it was ending up in jail that was the final straw. "That was just jail — it was the county, but it was long enough."
It was that same self-awareness that led her to seek treatment for alcohol addiction. That meant stops at the Massie Unit, an addictions treatment facility for adults, and the Allegany House, which helps individuals re-adjust to society without dependence on substances.
Through all her struggles with addiction, she has had the self-realization to change the path she was on.
"When it came to the alcohol last year, I just knew I was a wreck and I had to go get it under control. I put myself in the Massie Unit, then I went to the Allegheny House for further treatment," she said.
It was that decision to seek treatment that ultimately introduced her to Horizon Goodwill.
"I met a couple of goodwill employees while I was there. They became my case managers and helped me through," she said.
Jennifer worked a training period at the La Vale Goodwill location. The work helped her get back on her feet, including giving her the ability to move into her own place.
"It was a fantastic experience. I'm grateful for the opportunity, it got me back into the workforce," she said, something she couldn't find elsewhere. "Because honestly, through all of that, I had charges, so I couldn't get nobody to hire me whatsoever because of that open case. Finding employment was really hard for me."
Those charges were later dismissed and thrown out, she explained, but "that didn't take away from a year I couldn't get a job because of it."
Her training at Goodwill gave her a foundation to build on. Now she is an inspector at Berry Global, a local plastics fabrication firm. Plus, she can spend time focusing on her four adult children.
"Boy, girl, boy, girl. I have two generations of kids. My first two are in the 30s and the second two are 21 and 18 now," she said.
And now, there is a grandson, too.
"Right now, what I am looking forward to, is taking my children to the beach this summer. That's my biggest goal other than getting my transportation back. Just continuing to get back the things I lost," she said.
All are goals that may not have been possible If she hadn't the strength to recognize the pattern of addiction and sought the treatment that introduced her to her case managers at Horizon Goodwill.
"I'm just thankful and grateful for Horizon Goodwill for giving me the opportunity to start proving myself again," she said.