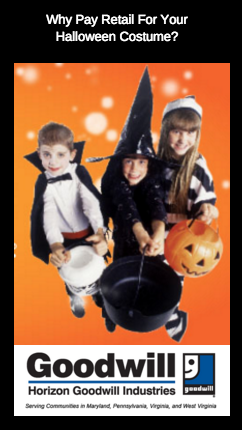 It sounded like a good idea when my wife proposed we host a Halloween party. After all, I love Halloween—the scary movies, all the neighborhood kids in those adorable costumes and of course raiding my daughter's candy stash over the following week.
I've discovered there's an actual art to the negotiation of convincing an eight year old to share their hard-earned treats. What works best for me is something along the lines of "Kaitlyn, you really don't want those nasty wafer things, do you? You know how they make those, right? Zookeepers from all over the country shave down the lions in the summer, you know, because it's hot, and nobody wants to see an uncomfortable lion. Then, they take all that lion hair and mix it with stale chocolate, you know, the kind that's expired, and they make candy, hence the name Kit Kats, just in time for Halloween. It's really gross, don't you think?"
Works every time! She can have the Skittles, Starburst, Jolly Ranchers—all of those fruity candies. I'm always happy to get rid of that chocolate for her. Of course, however I have to do this away from the prying eyes of my wife. She's very particular about my cholesterol and weight.
But anyway, back to the Halloween Party!
"Let's Make Our Own Halloween Costume!"
I'm all about making my own Halloween costume, so last night when Missy told me we were going to Horizon Goodwill, each of us with a budget of ten bucks to pick our disguise, I was all in. I love a challenge, and it's always fun to check out our local Horizon Goodwill store.
So, there I am, a ten spot in my hands, browsing the aisles, trying to find some inspiration. There was no way I was going to let the Mrs. create a better costume than me; I mean, I've always been the most creative member of the household, so it was on!
The Horizon Goodwill Store is big, but it's not massive, so imagine my surprise when I couldn't find Missy anywhere. We had only been there ten minutes, but I looked out the window and there she was sitting in the car. I went outside as she rolled down the window.
"What are you doing out here?" I asked.
"I'm ready. I purchased everything I need for my Halloween costume. What have you been doing?"
She gave me that grin only husbands can recognize, the smile that silently states, "Oh, I so won this battle". I nodded my head, raced back into the thrift store, desperate to find my Halloween costume with the clock ticking and a smug spouse waiting.
There it was…should I actually buy it? The price was right, and it was a pretty dress, but how would it look on me? I know I could I be the World's Ugliest Woman with little effort, but there were sure to be pictures from our party that would follow me around for decades…What if I ever wanted to run for a political office?
Hesitantly, I picked up the dress, and then looked out the window. There she was, pantomiming looking at her watch. I rushed to the checkout with my low-cost Halloween costume.
When we got home, I sat at my desk wondering if I made the right decision. At the very least the purchase of my polka dot dress helped to fund Horizon Goodwill's job training programs, but I just wasn't sure about the whole idea. I felt a pair of corduroy encased arms embracing me from behind. Looking up, there was Missy, wearing a brown sports coat, baseball hat, horn-rimmed glasses and a drawn on goatee.
"Get it? I'm going as you for Halloween!" I have to admit, she looked incredibly handsome, just like me!
Before you ask, no, there are no pictures of me in full make-up sporting high heels and an oversize polka dot dress…at least not yet.