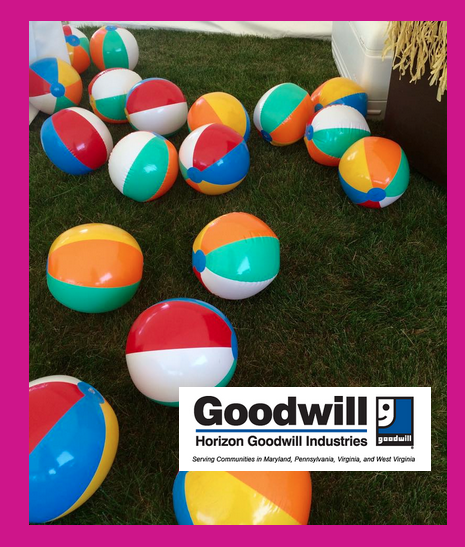 I'm going to let you in on a little secret. I don't consider myself a "Parrothead". Don't get me wrong, I'm sure Jimmy Buffet is a nice guy, and there's no doubt he's talented; it's just his beach flavored, feel good music has never appealed to me. I know I'm in the minority here, and I'm ok with that. I will say I do owe Mr. Buffet and The Coral Refer Band a debt of gratitude. Back in 2005 he played PNC Park in Pittsburgh and I tagged along with some friends to see what the whole tailgating experience would be like. It was here that I met my wife. Please, don't go connecting the dots here, that has nothing to do with why I'm not a big Jimmy Buffet fan. Seriously.
After attending last week's Chamber of Commerce Jimmy Buffet themed Business After Hours event, however, I'm starting to come around a bit to the whole Parrothead vibe.
Cheeseburgers In Paradise
The lawn just outside the Horizon Goodwill offices was converted into a tropical paradise, complete with tiki torches, refreshing drinks and, keeping with the Buffet theme, cheeseburgers! Lots and lots of cheeseburgers. Already I was starting to think this was a great theme for a Chamber of Commerce get together. I had my share of various burgers, fruits, deserts (yes, plural…come on, cut me some slack!) and great conversation as I mingled with various Washington County business representatives and friendly faces from Horizon Goodwill.
A Guided Tour Of Horizon Goodwill
You would think by this point in time, having posted blogs for well over a year to HorizonGoodwill.org, I should know enough to give a guided tour myself, but that so wasn't the case! There was an announcement made that anyone interested in taking a guided tour of the facility could meet at the gazebo. I had never had the opportunity to walk through the entire building before, so I grabbed one more burger and made my way over to the designated starting point.  I feel I'm pretty well-versed on Horizon Goodwill and totally on board with their efforts, but honestly, this tour was an eye opening experience I didn't expect. I was amazed when I discovered what I still didn't know!
I was part of the first group, guided by Cathy Fleming, Director of Mission Services. She introduced us to Melissia Emmert, Regional Sales Manager, and Randy Tisdale, Vocational Case Manager.  I listened and watched intently as Randy explained how he helps enroll community members with barriers to employment into HGI's job training program. He showed us the onsite resources available that help job seekers create resumes, apply for work and even follow up with employers after the interview.
At this time Melissia got pulled away as even more curious guests appeared, initiating additional tours. I ended up continuing with the original group as Cathy became the de facto tour guide. She did an impressive job explaining the donation processing area, the computer recycling program as well as detailing the various business outsourcing solutions Horizon Goodwill offers.  As a writer, I like to think I'm pretty observant and I what I saw during this walk through was sincerely uplifting. Every member in my large group asked several questions, producing mental flashbacks to when I was first introduced to Horizon Goodwill. It was truly inspiring to watch local community members get a better understanding of everything Goodwill does on a daily basis.
Meet John N. McCain
Back outside, Chamber of Commerce members were introduced to newly appointed Executive Director and CEO of Horizon Goodwill John McCain. As Mr. McCain briefly explained how Goodwill helps people learn valuable job skills, and just how our friends and neighbors can help in these efforts, I was overcome by a sense of pride.  I'm so grateful to have learned as much about Horizon Goodwill as I have in the short time since I've moved my family to the area. Is it possible that everyone here in attendance will be motivated by Goodwill's mission as well? Will even just one local business consider outsourcing work to some of these amazing people who have completed their job training?
Back Home Again
When I got home Missy greeted me with a kiss. "How was the event? Did you tell anyone there you met your wife at a Jimmy Buffet show?"
"Missy, I've told you a thousand times, we met at PNC Park, not a Jimmy Buffet concert."
"Whatever you say….I didn't know if you were eating there or not so I saved you a cheeseburger. It's in the fridge."  A cheeseburger? Yeah, I could squeeze in one more.