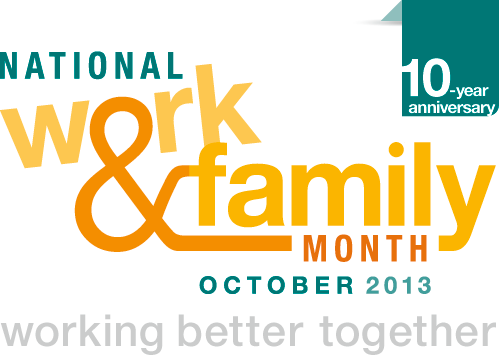 This month marks the 10th anniversary of National Work & Family Month. During this time, Congress, businesses, advocacy groups, academic institutions and other organizations encourage employers to think strategically about family-friendly policies and work-life benefits to help their employees succeed at home and on the job. Some of these policies may include workplace flexibility, health and wellness initiatives, and community involvement. The message is simple: a healthy balance between work and personal life is in the best interest of the worker, the employer and the national workforce. 
A study by Accenture revealed that above money, recognition and autonomy, work-life balance is the key determiner for more than half of men and women on whether or not they have a successful career. An additional 80% believe having flexibility in their work schedule is important to achieving a positive work-life balance. At Horizon Goodwill Industries, we believe now is the time for employers to recognize their employees' value and for employees to feel empowered by their lives. Here are a few tips for bringing balance to the daily routine of work and life.
Downtime is Good: When planning your weekly schedule, be sure to incorporate time with your family and friends, and activities just for you to help you recharge. Planning downtime into your schedule helps you feel in control of your work and personal life and forces you to take the time out for yourself and your family.
Drop the Baggage: Consider ceasing activities that don't enhance your career or personal life, or sap all your energy and self-satisfaction. If they don't add any value to your life, then minimize the time you spend on them. This will open up your time for more fulfilling activities, plus you'll feel more efficient by devoting your time to worthwhile efforts.
Tackle Your To-Do List: Can you outsource any of your time-consuming household chores or errands? What about combining them with family time, i.e. stopping by the grocery store on your way home from dinner out at a restaurant? This will help you save time while still enjoying the tasks you were planning to do anyway.
Exercise, Exercise, Exercise: Some days it seems too hard to find the time, but you'll get more done by boosting your energy with a burst of exercise. Incorporate exercise into your family time or make that morning run around the neighborhood "you" time.
Don't Forget to Relax: Even on the most hectic day, you can take 15-20 minutes to recharge and revitalize. Plan for a Sunday morning breakfast outside on the front porch, read that book that's been sitting alone on your nightstand or catch up on episodes of your favorite TV show.
What do you think are the keys to a healthy work-life balance?