Horizon Goodwill will be opening a new Attended Donation Center soon.  Construction began last week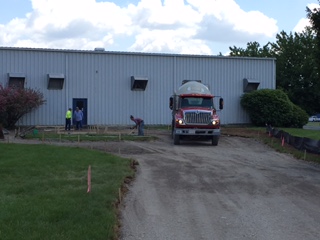 on a donation drop off site at our corporate offices at 14515 Pennsylvania Avenue in Hagerstown, across from Nick's Airport Inn and Pittsburgh Institute of Aeronautics. We hope to open the center in June. Check out the photo of heavy equipment getting our paved area ready.
When completed, this site will have a covered drop off area to protect the donor from the elements.  Also, the donation attendant will be able to assist you directly, so if you like there is no need to leave your car to make a donation.
Your donations allow Horizon Goodwill Industries to serve over 5,000 people per year in our service area, which includes parts of Maryland, Virginia, West Virginia and Pennsylvania.
Come back to this websites for updates, or sign up here for our newsletter.