The nationwide campaign emphasizes the theme "America's Recovery: Powered by Inclusion"
ROCKVILLE, MD (October 1, 2021) — Throughout October, Horizon Goodwill Industries is recognizing National Disability Employment Awareness Month (NDEAM), an annual awareness campaign to educate people about disability employment issues and celebrate the many and varied contributions of America's workers with disabilities.
NDEAM dates back to 1945 when Congress designated the first week in October to recognize people with disabilities and their potential. This year's theme for NDEAM, "America's Recovery: Powered by Inclusion," highlights the benefits of fully including all people, in particular those with disabilities, in the workplace. Further, as the world continues to recover from the pandemic, now more than ever companies and organizations have a critical need for skilled and reliable workers of all backgrounds.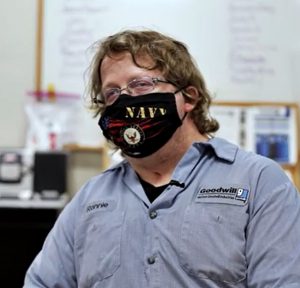 Each and every day, Goodwill mission services are offered in 509 counties within every U.S. state for anyone looking for a new job or a better career. Among the nearly 22 million people who used Goodwill services in 2020, there were more than 160,000 workers with disabilities who looked to Goodwill for assistance. People with disabilities are a dependable and valuable workforce who have higher rates of employee retention, which reduces hiring and training costs.
"Every minute of every business day, Goodwill helps someone find a good job," said Horizon Goodwill Industries President & CEO, David Shuster. "At Goodwill, we believe in the power of work to change lives. Career navigation support and skills attainment can lead to long-term economic stability for individuals, their families, and the greater community. We remain focused on drawing more attention to eliminating barriers to opportunity for workers with disabilities and helping them reach their full potential through learning and the power of work."
One of those individuals with the right talent is Ronnie Miller. Ronnie is the exact definition of an overachiever. He has overcome so many things that have been thrown in his path, from a wreck that almost took his life, to a battle with cancer. He faces every day with a smile on his face. He shows up every day and is proud to be there. Ronnie started in the training program working in the warehouse. Once the program was over, he applied for a position on the custodial crew. We were very happy to bring him on board. He does his absolute best with every task that is given to him. He listens to feedback and takes advice wholeheartedly and applies it to his job. Ronnie takes pride in doing a good job and representing Goodwill. Watch Ronnie's story.
"Our national recovery from the pandemic cannot be completed without the inclusion of all Americans, in particular, people with disabilities," said U.S. Secretary of Labor Marty Walsh. "Their contributions have historically been vital to our nation's success and are more important today than ever. We must build an economy that fully includes the talent and drive of those with disabilities."