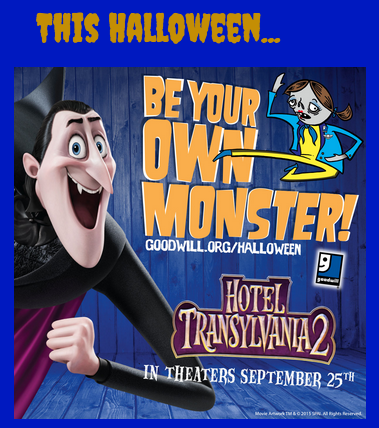 I can't tell you how happy I am to make my living as a writer. I actually feel privileged to get up everyday and have the opportunity to share my thoughts with others via blog articles, especially when it comes to working with Horizon Goodwill. As you probably know by now, I could write for hours about the incredible opportunities this amazing organization offers to the local community via their job training programs. Oh, and a word to the wise, if we ever bump into each other at a cocktail party, and I start to run on about how important Horizon Goodwill's efforts are, feel free to reign me in.
I have to admit, however, that I wasn't always so enthusiastic about my career. If you recall, I spent two decades operating movie theaters for a pretty large company in the North East. Twenty years is a long time. Old habits die hard, so I still pull up the box receipts every Monday to see how well the new movies performed. It's just one of those things that I was required to do in my past life, as the box office gross is what I utilized to plan payroll for the upcoming week, decide what auditorium seat count would be required to best maximize ticket sales and even what coming attractions to program.
So Monday morning, as I'm sipping my coffee, surfing online, I decided to pull up the weekend grosses, and got a real shock! Hotel Transylvania 2 had broken all records for a September opening, grossing a whopping $47.5 million! In another window I opened up www.horizongoodwill.org, smiling to myself that the graphic from my last article actually utilized the character of Mavis, Count Dracula's daughter from the movie. Yeah, I was proud of my foresight!
Kaitlyn came running in to give me a kiss goodbye before heading to the bus stop, but froze in her steps when she saw what was on my monitor. "Daddy! You know I went to see Hotel Transylvania 2 with my class!" Yep, I recall her telling me of her big plans last week. "I want to go—" I cut her off, which I soon regretted…
"Honey, I know you want to go see it again, and maybe we can this weekend, but the Pirates have a very important series against the Reds, and—" Now it was her turn to cut me off.
"No! That wasn't what I was going to say! The other thing on your screen." She pointed to the Horizon Goodwill window. "I want to Be My Own Monster!"
I looked at the image from last week's article. "Kaitlyn, what do you mean?"
She slung her backpack over her shoulder, rolled her eyes and sighed "Daddy! All of my friends are dressing up for Halloween at school this year, and our teacher told us Goodwill has awesome ideas for costumes so we can become our own monster! Don't you remember, me and you did that last year, too!"
"We did?" I asked?
"Yes! I want to do it again! I want to have the coolest costume ever, and we can get everything at Horizon Goodwill! Will you take me?" She stared up at me with those beautiful blue eyes. Then she added, "The Pirates don't play Thursday at all, I checked!"
Well, what was I going to say to that? "Thursday it is!" I declared. She smiled, gave me another hug and raced out the door.
So now I have a fun-filled trip to my local Horizon Goodwill this Thursday with my favorite little girl. You know what, I'd give up watching baseball completely if she asked me. Yeah, she has her Daddy wrapped around her little finger…I know I need to treasure this time with her now, though, as I'm sure when she enters high school I'll be just a bit too "uncool" to hang with and, like all teenage girls, she'll become a real monster!