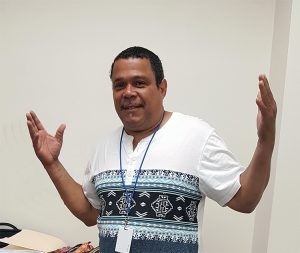 By Jessica Martz, Vocational Case Manager, and Troy Brant, Workforce Development Coordinator
Marvin began his journey with Horizon Goodwill in May of 2018. After successfully completing our GET ONBOARD! job-readiness program, Marvin was offered a paid training position at the Hagerstown Processing Center.
He struggled off and on to overcome addiction and finally left the program and the Hagerstown area to pursue a new way of living "a fresh start" as he refers to it.
Marvin's drive and perseverance brought him back to us in January 2020.  After overcoming addiction and "making peace with his past" Marvin was ready to continue his job readiness training and seek gainful employment.  He reached out to Goodwill's Workforce Development Team in Cumberland, MD where he relocated to a sober living facility. Marvin's previous experience with Goodwill left him with a feeling of acceptance and understanding. "I was always treated as an equal."
Troy Brant, the Work Force Development Coordinator met with Marvin and immediately supported his return to the program.  After meeting with a vocational case manager for assessment, a job development plan was created, and Marvin was offered a paid training position in the Cumberland Processing Center.
Over the next month, Marvin excelled at reaching his job skill milestones including attendance, competitive work pace, and motivation all while attending GED courses, weekly case management meetings, and daily recovery meetings! He left sober living and secured his own personal housing.  When a paid training opportunity became available at the LaVale Goodwill Store, Marvin's hard work and determination made him a top candidate for the position.
During a recent case management meeting, Marvin was asked to provide feedback on his experience with Goodwill's Job Readiness Program. He expressed that "working at goodwill showed me that there are people out there that care, people that are here for you" and " Now I look forward to coming to work."
Today Marvin is continuing his education with GED classes and attending his recovery and case management meetings while finishing his paid training at the Goodwill Store.  Dwayne Olden, the Store Manager has offered him a permanent position on his team stating that "Marvin is a team player and goes above and beyond to keep himself busy."