Welcome to the Horizon Goodwill Industries company newsletter.
Our Mission is: Removing Barriers, Creating Opportunities.
March 2023                                                                                                             Vol. 1, Edition 9
---

Is it Equal, Equitable, or Just???
You may recall that in February, I highlighted our commitment to Diversity, Equity, and Inclusion (DEI). This month, I'd like to explore the meanings behind three words you often hear associated with DEI: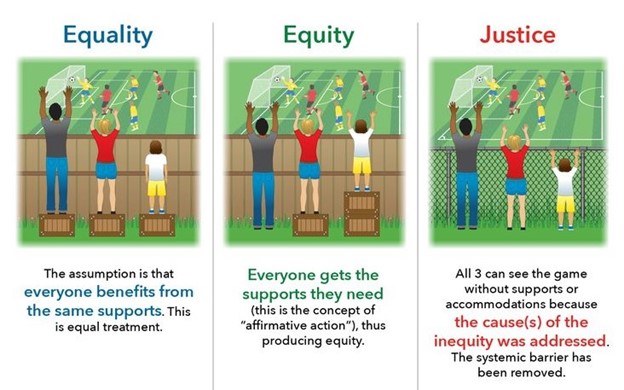 Equality means each individual is given the same resources and opportunities, regardless of their circumstances. In some cases, equality can actually increase inequities in communities as not every group of people needs the same resources or opportunities allocated to them in order to thrive. The concept of equality is based on everyone having access to the same resources; therefore, they are treated "equally." While this sounds great in concept, the image above highlights how providing everyone identical support does not always address the problem.
Equity recognizes each person has different circumstances and needs, meaning different groups of people need different resources and opportunities allocated to them in order to thrive. In an equitable solution, resources are provided based on the individual need or circumstance. As shown in the image above, in order to achieve equity, those who are experiencing greater barriers receive more support or resources while others receive less.
Justice advances equity one step further by identifying and removing the barrier itself. As seen in the final image, solutions that are just become sustainable over time because they no longer require an investment of additional resources in order for everyone to have equal access.
You may recall that our mission at HGI is "removing barriers, creating opportunities." While we are not perfect, we strive to center equity and justice in everything we do. I encourage each of you to consider how your actions may contribute towards these ideals. If you ever have suggestions on how we can be better, please do not hesitate to let me know!
With hope, Dave
---

New Vice President of Mission Advancement: Nick Kline!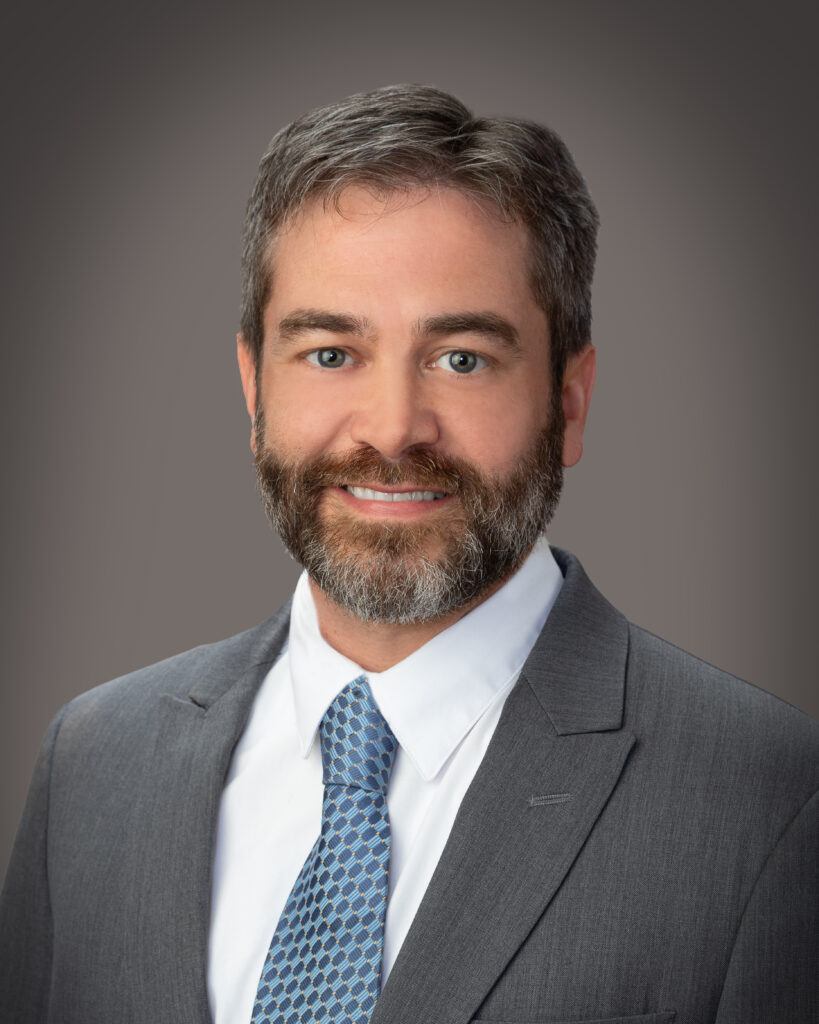 HGI recently named Nick Kline as the new Vice President of Mission Advancement.
Nick brings over 15 years of marketing and strategic development experience to the organization. In his new role, he will provide strategic leadership for all fundraising, marketing, public relations, communication, legislative advocacy, and community engagement activities of the organization.
"I deeply admire the mission and work that Horizon Goodwill is doing in our community, and I'm honored to be a part of that now," Kline said.
Prior to co-founding Wimbly Stoke, a strategic marketing agency based out of Frederick, Nick was the Director of Technology at High Rock.
"I've spent the past few years helping nonprofit and for-profit organizations define their purpose and translate that to long-term strategic objectives. It's been incredibly fulfilling work, and I'm excited to bring that experience to HGI. Mostly though, I'm grateful for the opportunity to serve alongside this amazing team of people doing really meaningful work."
So what does a "VP of Mission Advancement" do?
Play a strategic role in designing and leading brand and development strategies.
Build relationships across our territory in support of mission activities.
Ensure effectiveness and efficiencies that result in agency profitability;
Drive organizational capacity development by translating Horizon Goodwill's strategic vision into a sound operational plan.
In short, 'Advancing the Mission'! When you meet Nick, give him a big HGI Welcome!
---
YOU are making a difference in the lives of many people. It's the beginning of a new year, but here is your impact through January 2023: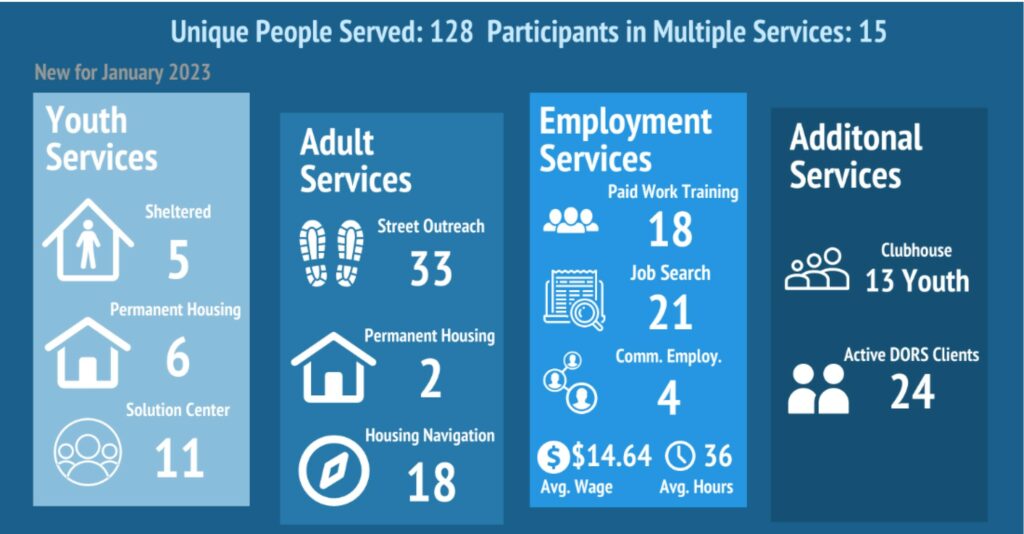 ---

Employee Spotlight: Gary Lewis! 
Gary has come a long way in life. Born as a twin to a little girl, he had many medical challenges. Gary was unable to walk. He was placed in Rosewood Institution, and Gary stayed there until he was 14 coming out able to walk. Placed in group homes all his life, he worked as a janitor at Mcdonald's, Pantry Pride, and Peoples Drug store.
Being a Client of The Arc of Frederick County, Gary was recommended to apply for a job with Horizon Goodwill. Gary became an employee in October 2007. He will tell everyone he loves his job and is unafraid to work. Unfortunately, Gary was laid off when the contract was cut; when things started to pick up, we called Gary to see if he wanted to return to work. There was no hesitation; he came back. Gary may not work as fast as other employees and doesn't always stay on track. He does his best to complete all his tasks.
Gary lives on his own now with the support of The Arc of Frederick County. He loves his 49ers and can always make you laugh. It doesn't matter what you say to him; he will have a witty comeback. We are glad to have him back because he puts smiles on everyone's faces.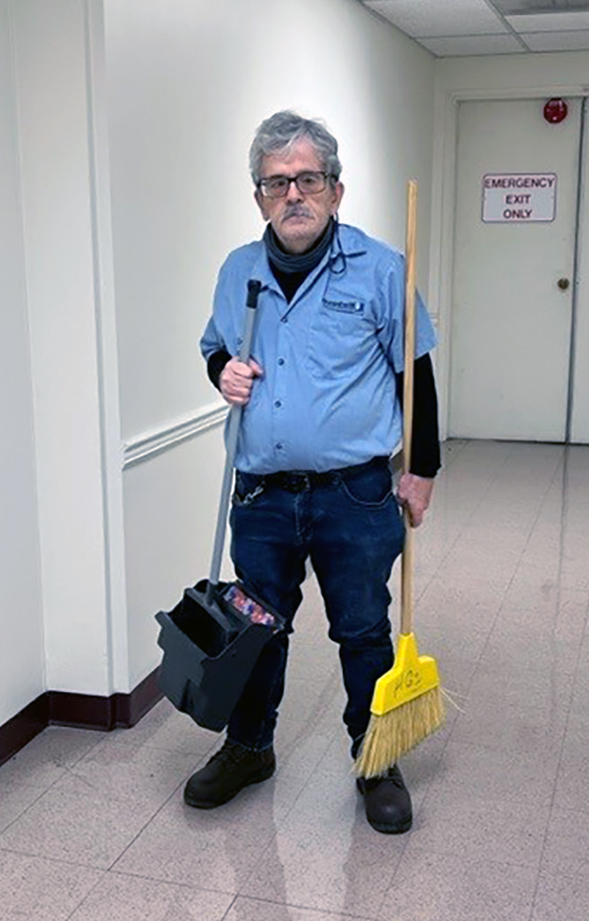 ---

Spring Cleaning Fuels the Goodwill Engine
It's spring, so that means it's time to do a little spring cleaning! At HGI (and all the other Goodwill Organizations), we all know that we rely on people bringing their donations to our facilities so we can resell them to help pay for our Mission Services. While we tend to look at outside people as donors, but even our employees can be a great source of donations. Here are some helpful hints for those of you that would like to tackle decluttering:
Top Decluttering Tips For Your Home: Room-by-Room Checklist:
The first rule of decluttering is: Don't try to tackle everything all at once. Organizing and decluttering can give you a huge sense of accomplishment, but if you try to take on too much, you'll just get overwhelmed.
Instead, break up your decluttering mission by room. Then break it down even further. Go one cabinet, drawer, or shelf at a time. This is especially true if you have a lot of stuff in your house that needs to be donated, thrown out, or reorganized. If you focus on one small section of your home at a time, you'll have a clear organization plan and ultimately accomplish more.
The Bathroom: The bathroom is often overlooked when organizing, but it can easily start overflowing with expired, old products. It may be time to reevaluate if your bathroom is full of forgotten skincare serums, unused Bath & Body Works gift sets, or foundations that aren't quite your shade.
The Bedroom: Your bedroom should be your "zen" space. But all too often, it becomes a dumping ground for piles of laundry, empty water cups, and the artwork you've meant to hang up for months (or even years). You don't need to be overwhelmed by the mess — start one step at a time.
The Closet and Clothing: For many people, clothing is the largest source of clutter in the home. An overabundance of clothing can not only overfill your closet and drawers but also spill into other aspects of your life. It makes doing laundry, keeping your space organized, and just choosing outfits each morning more stressful than necessary.
The Kitchen: Although every room in your home needs to work for you, the functionality of your kitchen may be the most important. Who wants to cook in a disorganized, overflowing mess of a kitchen? Once you declutter your kitchen, you'll be excited to make delicious, home-cooked meals again.
The Living Room: The living room is the focal point of your home. When you have guests over, it's almost guaranteed that they will spend time in the living room. But you want to enjoy the space, too. That's why you should use your living room to highlight the items you love the most and store away items you don't want to look at. You'll enjoy relaxing in your living room more, and your display items can serve as awesome conversation starters.
For more information about decluttering your home, read this recent article from our guest author: Faith Wakefield, for Today's Homeowner.
---

Interviews Are Taking Place!
We are currently interviewing candidates for the Vice President of People and Culture. The selected person will lead the development, implementation, and management of effective human resource strategies. They'll establish an organizational culture built on caring, inclusivity, growth, and accountability while advancing the economic sustainability of the communities we serve. They will also lead the implementation of HGI's diversity, equity, and inclusion plan. This person will also collaborate with senior leaders and cross-functional teams to attract, motivate, develop, and retain an outstanding workforce to support organizational growth. We're hoping to bring on someone very soon!
As a reminder, utilize "Ask Here" in Paycom ESS (Employee Self-Service) to connect you to a Resource Coordinator. Access our EAP (Employee Assistance Program) on the BHS Portal online or via the app at portal.BHSonline.com Username: Horizon Goodwill or call 800-327-2251.
---
There was no Living Our Values Award winner in February but watch for the Paycom link for the next Living Our Values Award. The nomination survey will be coming later this month!
---
Milestones & New Hires
Congratulations to the following people for reaching a great milestone, and a big 'Welcome' to our newest team members as they begin their journey to their milestones!

Anniversaries
New Hires
Name
Location
Yrs.
Name
Start Date
Jeffrey Mills Sr
HGI-2
1  yr
Andrew Rockwell
9-Feb
Dustin Liller
Cumberland UPIP
1 yr
Nicole Longerbeam
10-Feb
Craig Foster
Corporate Center
2  yrs
Chloe Shell
10-Feb
Elida Barrera Orellana
Fort Detrick
2 yrs
Kasianna Sommers
11-Feb
Waikiki Fields
Keyser
2 yrs
Stacy Strock
11-Feb
Charles Lafferty
Sideling Hill
2 yrs
Madisen Kinney
13-Feb
Tiffany Cole
Martinsburg
3  yrs
Carissa Ketterman
13-Feb
Robert Hansen
Winchester
3  yrs
Deandre Acree
13-Feb
Matthew Welch
Cumberland UPIP
3 yrs
Michael Payne
14-Feb
Kenneth Dawson
Cumberland UPIP
3 yrs
Krista Bridendolph
14-Feb
Rebecca Orr
HGI-2
4  yrs
Michael Trail
14-Feb
Joanna Moyer
Sideling Hill
4  yrs
Claude Travis
14-Feb
Deaundre Gonzales-Lambert
Corporate Center
4 yrs
Barbara Barry
14-Feb
Kadiatou Niambele
South End
5  yrs
Jon Crawley
14-Feb
Amber Riley
Martinsburg
5 yrs
Demetrius Gayles
14-Feb
Sharon Ahrens
Corporate Center
7 yrs
Lilibet Butts
14-Feb
Tammy Rothgeb-Dawson
HGI-2
8 yrs
Dustin Thomas
14-Feb
Wayne Lloyd
Corporate Center
9 yrs
James Sherman
15-Feb
James Taylor
HGI-2
11 yrs
Jakob Furley
16-Feb
Margaret Blank
Fort Detrick
16 yrs
Brandon Plowden
17-Feb
Camden Wempe
17-Feb
New Hires
Sandra Sparkman
18-Feb
Name
Start Date
Sarah Hoff
20-Feb
Amari Reynolds
1-Feb
Paul Roberts
20-Feb
Albert Crowe
2-Feb
Nicholas Kline
20-Feb
Patsy Nauman
2-Feb
Kaitlyn Pool
21-Feb
Sierra Jones
2-Feb
Craig Osborne
21-Feb
Jurnee Carroll
2-Feb
Eva Rush
21-Feb
Jordan Head
2-Feb
Katherine Parker
21-Feb
Travis Braithwaite
2-Feb
Rayanna Faulk
21-Feb
Kirby Mckinney
2-Feb
Luis Creller
21-Feb
Yolanda Williams
3-Feb
Alexis Woodward
21-Feb
Laquette Foster
3-Feb
Ripley Jackson
21-Feb
Lavona Carter
3-Feb
Courtney Taylor
21-Feb
Chase Oneill
4-Feb
Benjamin Noyes
21-Feb
Jeffery Pettaway
6-Feb
Nicole Hadsell
21-Feb
Patricia Runion
6-Feb
Kaelyn Gatrell
22-Feb
Charlene Stuckey
6-Feb
Chandler Rhodes
22-Feb
Elena Delawder
6-Feb
Patricia Molina
22-Feb
Devin Ashe
6-Feb
Amber Rockwell
22-Feb
Larry Davis
6-Feb
Alexander Waters
22-Feb
Jennifer Oberholzer
7-Feb
Danielle Bartley
24-Feb
Johnny Richards
7-Feb
Amber Stone
25-Feb
Talithia Belasco
7-Feb
Zoe Scheetz
27-Feb
Bryce Donelson
8-Feb
Uton Allen
28-Feb
Jaime Aycock
8-Feb
Vachel Maddox
28-Feb
Briana Sours
8-Feb
Payton Marsh
28-Feb
Emma Hamill
8-Feb
Caitlyn Marsh
28-Feb
Crystal Chaney
8-Feb
Desiree Griffith
28-Feb
Tysean Chapple
8-Feb
James Wariner
28-Feb
Frank Laredo
8-Feb
Jason Garlitz
28-Feb
Taylor Siner
9-Feb
Krista Bridendolph
14-Feb
Amber Mauck
9-Feb
Michael Trail
14-Feb
---
Upcoming Events
March 8: Project Connect w/Cumberland Police Dept., 138 Baltimore Street, Cumberland, MD. (1 PM – 2 PM)
March 11: Wellness Expo at Shepherd University, 301 N. King St., Shepherdstown, WV. (2 PM – 4 PM)
March 18: Shenandoah County Humane Society at the Woodstock, VA, store. (11 AM – 3 PM)
Thank you for reading the Horizon Goodwill Industries newsletter. If you have any exciting news or story suggestions, please get in touch with us at marketing@goodwill-hgi.org.