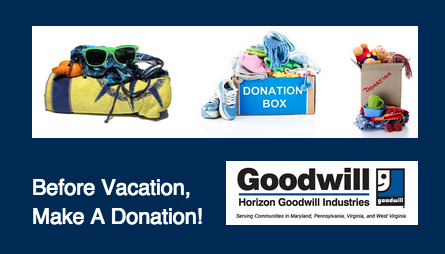 Hello again, readers! How was your Father's Day weekend? See, I believe the holiday should be celebrated over the course of three days, not just on the traditional Sunday. Ask any dad and I think they would agree, it's not too much to ask to chill out Friday evening through bedtime on Sunday once a year, is it?  That was my plan, and I made it known to anyone in my household who would listen! My Pittsburgh Pirates were playing a weekend series against my newly adopted second favorite team the Washington Nationals, and I had intentions of watching every single pitch.  My wife, however, had other plans.
Before You Vacate To The Shore, Donate At The Store!
I should have known something was up Friday night. As I settled down in front of the t.v. with my unsweetened iced tea and a bag of baby carrots (yes, I'm still trying to drop some pounds), Missy came into the living room with one of those "We Need To Talk" looks on her face. I muted the ballgame, keeping one eye on my lovely wife and the other on Andrew McCutchen stepping into the batter's box.
"You know our beach trip is less than a month away, right?" I nodded my head, not liking where this was going. "Are you ready?"
For the life of me I couldn't figure out what she meant by that! "Uh, it's like three weeks away…what do you mean am I ready?"
She walked right in front of the television, I kid you not, hands on her hips staring me dead in the eyes…both of them! "You're not wearing those goofy Superman swimming trunks this year! They haven't fit you since before Kaitlyn was born! John, she's eight years old now! And we need to get her a new boogie board, she's totally embarrassed by her Dora The Explorer one! And, there's another thing…"— Ok, fellas, what would you do if your wife left a sentence like that hang out there in the air? Yeah, I turned the television off.
"You can't bring that portable C.D. player with you this year. I'm sorry, but it's 2015, they have things called iPod's now, you know? They play mp3's, they're smaller…ok?" She did make a very good case. I had to think quickly, the game was already in the bottom of the first inning. "Ok, Missy, I tell you what. Get a list of everything we need to purchase for the beach, then get all of the old items we'll be replacing and I'll donate them to Horizon Goodwill tomorrow, what do you say?" Her smile gave me hope that I might actually get to watch the remainder of the game in peace. Little good that did me, however, as my Bucs got beat 4-1. Oh, well, just a minor setback, there were still two games left in the series.
Weekends Are The Perfect Time To Donate To Horizon Goodwill!
So Saturday afternoon, I had a box literally overflowing with T-shirts purchased on past vacations, sandals I've never seen my wife wear, a variety of floatation devices that apparently are no longer cool when you're eight years old and yes, my old Sanyo C.D. player.  I was totally fine with donating these items, not only because I knew they would be sold, helping Horizon Goodwill fund their job training programs, but also because it meant Missy and Kaitlyn would be out shopping for new items well into the evening—which meant I could watch Game Two of the Pirates/Nationals series.  Yeah…the Pirates lost…again…but the 'Nats Max Scherzer pitched a no hitter, almost a perfect game, which is pretty cool.
A Father's Day Surprise From Horizon Goodwill
Every dad deserves to sleep in on Father's Day, but that wasn't in the cards for me.  Kaitlyn and Missy woke me up at 7:30 am, eager to show me all the items they had purchased during their shopping trip the day prior. "This couldn't wait until at least 9:00 am?" I asked.  "No, Daddy, it couldn't. Look what I got you for the beach! Happy Father's Day!". She grinned and handed me a little box. I opened it to reveal a really cool iPod Touch. "We stopped at the Goodwill store in Martinsburg on our way back from the mall and Kaitlyn saw this. She paid for it with her own money, too." I smiled, kissed and hugged my little girl until Missy said "Isn't there something else in the box?"
I reached in to discover three tickets for that afternoon's ball game at Nationals Park! That's why they had woken me up so early, we had to get down to D.C. before the first pitch!  "Wow! Thank you both! This is awesome!"
I should end the story here, but I think I owe it to all of the loyal Horizon Goodwill readers to note the Pirates got destroyed 9-2 as the Nationals swept the series. But you know what? It didn't matter. I had a great time with my two favorite girls!