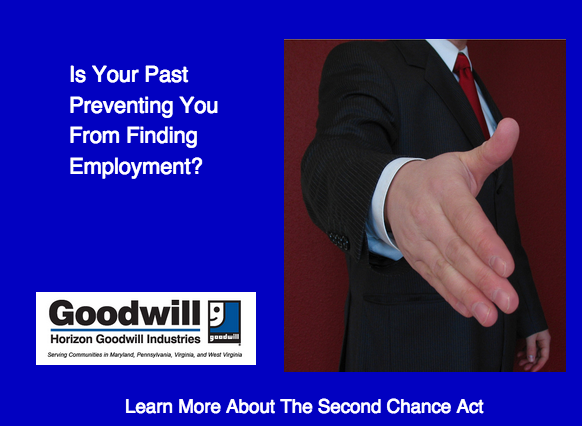 Last week I was very happy to write about The Second Chance Act, legislation that offers non-violent offenders the opportunity to have their criminal record expunged in order to help them find gainful employment. I have to say, this ground-breaking bill can literally change lives—and already has—which is what Horizon Goodwill is all about! Recently, I had the opportunity to discuss the details of The Second Chance Act with Attorney Rodney Rose, Horizon Goodwill Industries' Director of Regulatory Compliance and In-House Council, who actually helped write new verbiage to be added later this year within the existing bill. I suggest you take a few minutes to read what Attorney Rose had to say regarding The Second Chance Act, Horizon Goodwill's Legal Expungement Assistance Program (LEAP)and how both are helping to improve the unemployment rate in Washington County.
Thank you for making some time to discuss LEAP and The Second Chance Act with the Horizon Goodwill audience.
It's my pleasure, John. I think it's important to convey this information to those who may be experiencing a difficult time finding employment  based on past indiscretions, usually actions taken when they were much younger and didn't consider the ramifications those charges would have on their future.
I totally understand! I wrote about my own experience, something I did when I was 19, that really could have impacted my future employment opportunities.
It happens, we're all human and we all make mistakes. The Second Chance Act and our LEAP program are intended to help our friends, relatives and neighbors get a fresh start.
And from all the information I've read, it sounds like they're both working.
I can't stress how much of a success it's been! We're all so proud of the difference that we've made and the future opportunities the revisions that have passed in The Second Chance Act will provide. At this point the LEAP Program has a 100% success rate, with 0% reoffenders. Zero. In fact, the unemployment rate in Washington County has actually been reduced. The numbers don't lie, this legislation and the efforts of our LEAP Program are  truly making a difference.
That's really amazing! I understand there may be some plans to extend this program to other areas, other states?
We're hoping so, yes. We've met with delegates from other states and both myself and Craig Houpt from Horizon Goodwill's Legal Services Department have been invited to speak to representatives from Goodwill Industries International® in order to possibly introduce the LEAP Program in all areas where Goodwill has a presence. It really works.
That sounds like a great lead in for my next question. Can you give a quick overview of who can be eligible to benefit from The Second Chance Act?
Sure. The Second Chance can help those who have been charged with non-violent crimes, or crimes that are no longer illegal, have their record expunged in order to help them be considered for a wider spectrum of employment opportunities.
Can you explain what is considered "non-violent"?
We're talking about offenses such as vagrancy, writing bad checks, a variety of drug charges. In fact, that is what I meant regarding some crimes that are no longer considered a crime. There's a number of people out there with charges for marijuana possession under ten grams on their record; that's no longer a criminal offense here in Maryland.
I see.
You know, it's mind-boggling how some of these charges can just snowball, causing more and more problems. I have to share the story about one of our success stories. We had a Gulf War Veteran that was homeless. Every night, he would wind up sleeping in the park, and every night he would be charged with vagrancy. Five charges of vagrancy actually ended up becoming, I believe, 31 charges including contempt for failure to show up for scheduled court dates.  After receiving job training from Horizon Goodwill and working through the LEAP Program, this veteran is now employed full time with a government job, earning $20.00 an hour with full benefits.  It's stories like this that makes all the effort Christopher Shank, Governor Hogan, Craig Houpt, myself and so many others have put into getting the wording in this bill so worthwhile.
How can those who qualify to have their record expunged get the process started?
Well, the process usually takes anywhere from four to six months, but the first step involves visiting our Prospect Street Service Center on Tuesdays between 8:00 am and noon. We will help you complete all of the paperwork as well as prepare the required petitions to present to the court.
And that's it? That's all it takes?
That's how to get started. We also suggest enrolling in all of the job training programs Horizon Goodwill has to offer in order to prepare for future employment.
I have to ask, and I might already know the answer based on what I've learned about Horizon Goodwill, but how is this program funded?
We've received a grant from the local United Way and, of course, nearly 90% of funds generated from items donated to our local Horizon Goodwill stores help with all of our job training programs, including helping those who need to have their record expunged in order to find work.
Wow! It never ceases to amaze me the great things Horizon Goodwill does day in and day out!
I couldn't have said it any better!
Thank you again, Attorney Rose, for sharing with our readers this week.
Anytime!