Still haven't fall-ified your home yet? No worries! It's not too late to bring the accents and color of fall inside before the winter holiday season is upon us. Shop any of our retail locations for supplies, then give one of these DIY fall decorating ideas a try.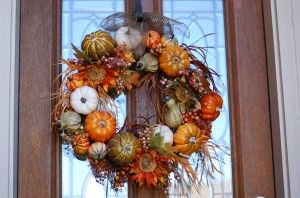 1. Fall Wreath
Buy a wreath form at any craft store, then stock up on various fall décor found at Goodwill. Simply use a hot glue gun to glue plastic pumpkins, leaves and more to create a full, festive fall wreath for your front door.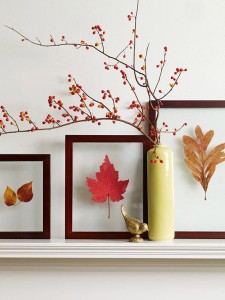 2. Fall Foliage Pressings
Bring the outdoors inside while preserving the beauty of colorful fall foliage. All you need to do is gather and press leaves between books. Display leaves on a wall or shelf by placing between two pieces of glass or inside any frame found at Goodwill.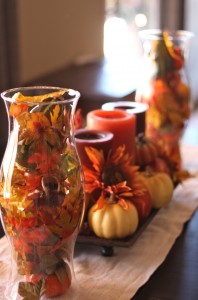 3. Dining Table Centerpiece
This DIY is perfect for your family's Thanksgiving dinner. Purchase a fall-colored table runner, glass hurricanes, faux fall leaves, plastic pumpkins and candles at Goodwill. Arrange into a simple yet festive display in the middle of your dining room table. This stunning centerpiece is sure to delight dinner guests.
4. Fall Mantle
Transitioning your mantle from season to season is one easy way to breathe new life to your home décor while celebrating the sights and sensations of each new season. For this creative mantle display, shop Goodwill for used books, plastic pumpkins, wicker baskets, candles and other fall-inspired pieces. Layer on the top of the mantle and by the fireplace, then top with a banner like this one made from burlap.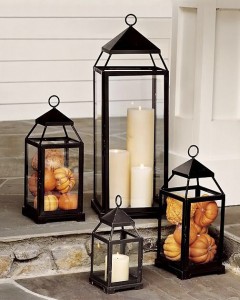 5. Festive Lanterns
This is a super easy way to add warmth to your home's entryway. You can use lanterns you already have or shop Goodwill for gently used ones. Fill with plastic pumpkins and candles from our stores, then place on your front porch or inside your home.
Show us your best fall décor DIYs. Post a photo on our Facebook page and let us know which Horizon Goodwill location you purchased your supplies.