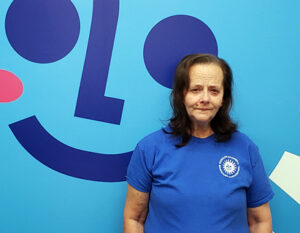 by Christopher Six, Media Marketing Assistant

For Rhonda Eastman, the decision to come to Maryland was a calling — to be in a place where she could help people — and while that journey has had its trials, she knows she is better prepared to make a difference in people's lives.
"I felt like the Lord wanted me to come here. I was watching some programs, and they were talking about Maryland, and a few weeks later, He told me that he was going to move me to Maryland," Eastman explains. "I picked Hagerstown because it was a smaller town. I'm actually called to be a pastor. So I gave everything away and only brought a suitcase and two bags."
Rhonda retired from her job of nine years at McDonald's' to prepare for the move. But moving from Lake of the Ozarks in Osage Beach, Missouri, to her new home in Maryland was not without its challenges.
"I really felt like the Lord sent me here, but later on, I was running out of funds to stay in the motel," she said.
So, she turned to something she knew – Mcdonald's.
"If you don't have funds, you have nowhere to go. I had to camp at work … I had to wait until we got paid, so off and on, I would be on the street," she explains. "You almost have to go behind buildings just to stay warm."
Despite her best efforts, Rhonda found she couldn't save enough money to get steady housing and knew she needed help.
Rhonda had applied and interviewed with Goodwill at a Job Fair in March. She also met with Housing Navigation. Having already stayed at the Salvation Army and could not go back for six months. Options were discussed with Goodwill's Director of Workforce/Human Services, Adam Sewell, who was able to put her in the Dagmar Hotel for a night.
Horizon Goodwill representatives explored several temporary housing options to no avail. Finally, they apprised The Salvation Army of the situation, and Rhonda was granted a week's stay until Goodwill could get a room ready. Within a day, Horizon Goodwill had a room at the shelter available and ready for Rhonda.
At the same time, a friend was helping her navigate the housing authority.
"As soon as I got to the Dagmar Hotel, I heard from them that I was on top of the list, and three months later, I got my apartment," she said.
As part of the Goodwill Shelter Program, Rhonda started working for Goodwill at the corporate location in the north-end warehouse before moving to the Burhans Boulevard location. Now she's at the brand-new North Pointe store in Hagerstown.
"That was awesome!" she said of the ribbon-cutting event held for the new store on July 14.
And does she enjoy her work? "Oh yeah, I love it!" she enthusiastically answers.
While there were times she admits she wanted to give up, Rhonda sees her journey as training – preparing her for her opportunity to help others in the future.
"It's just part of my sacrifice. I've always wanted to help people on the street. And He taught me through this experience to help people more. My dream was to have my own mission," she explains. "So, I feel like coming here and going through this experience, it was also a learning experience to get me ready to help other people that need help."
"I felt like this was part of my ministry to help people and to evangelize the best way I know how," she continues. "I don't know where I will be, but I think I will have my own mission and have that recreation room where we come in for fellowship, and the ones that don't know the Lord will come to the Lord and just love him – because a lot of those people don't have love."
Rhonda wants others to see her story as a source of encouragement.
"Don't give up. There were times that I wanted to give up, and the Lord told me, don't give up; keep going no matter what. And that's what I did," she said. "I really encourage them to do the same thing. It's hard, but they will make it no matter what."