Mr. Zhang Linfeng, Mrs. Huang Dongying, Mr. Wang Baoyue, and Mr. Li Guishheng traveled a long way to visit us at Horizon Goodwill Industries. These professionals are here from China to participate in the Kaplan University Guangxi China's Urban Cluster Study Group. Their goals for the time they spent at Horizon Goodwill were to talk about business potential, learn about Goodwill's Social Enterprise business model, and the services we offer. Day oneconsisted of meetings, lunch, and a tour of our corporate and warehouse facility.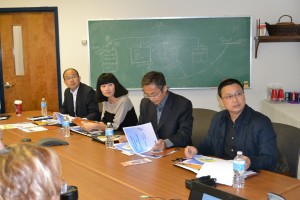 During their stay the study group toured our store location in Romney, WV and paid a visit to Sideling Hill rest area in Hancock, MD, where we contract with the State of Maryland for employment and training opportunities as well as provide Total Facilities Maintenance Services for the site. HGI uses this state contract to generate revenue for our job training programs while providing a much needed service to the state and jobs for local residents.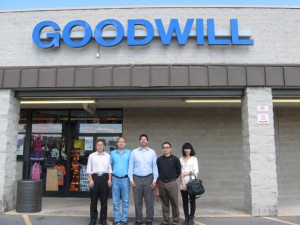 Mr. Zhang, Mrs. Huang, Mr. Wang, and Mr. Li were very knowledgeable and we learned a lot from their official visit. They got to be part of a very special day during their visit, the United Way of Washington County Annual Day of Caring! The "Day of Caring" is an annual event that mobilizes volunteers to work on a variety of service projects at local nonprofit organizations and residential homes. The cluster group helped us get ready for our volunteers and help spread the word about Goodwill all day long.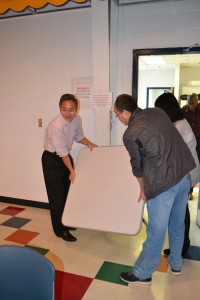 They even got more "hands on" a few days later with our donation center employees and job training program participants. The group shadowed them and learned the process your donations go through to create so many job training opportunities.
We hope they learned as much as we did during their visit with us. It was a great opportunity and a marvelous experience. Thank you, Kaplan University for this program and letting us perform such an enormous role during Guangxi China's Urban Cluster Study Group stay in America.