by Christopher Six, Media Marketing Assistant
When Jim Watson came to Hagerstown in 2015, he had been on the street for several years. A 2007 car accident had robbed him of his mobility and livelihood, leaving him in a wheelchair. On Oct, 26, he cut the ribbon to celebrate the remodeling of Horizon Goodwill's South End Hagerstown store as its assistant manager.
It was a journey of determination and perseverance that would have been hard to imagine 14 years ago.
"I had a car accident in 2007. I wasn't going to survive. Broke my neck, broke my back. I was in a power chair for seven years," he explained. "They pretty much told me I would never walk again in my life."
Unable to continue in his job stocking shelves at a market, he eventually found himself homeless, wheelchair-bound, and living in a tent.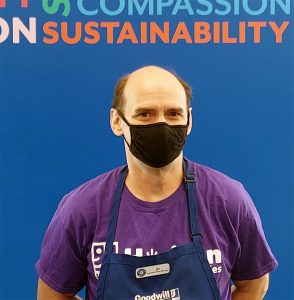 It was while living in Frederick that he first began searching for help. As a Navy veteran, he ultimately found help with the Welcome Home Veterans Program. Following an interview, he was accepted into the program for a two-year stay.
"They finally gave me a chance to get on my feet," he said.
Literally. Jim had been in that chair for seven years. They said he'd never walk again, "but me being the only left-hander in the family, coming out breach, stubborn, I wasn't taking that for an answer."
Without access to years of physical therapy, it took Jim's own grit — the same kind of determination that has kept him 18-years sober — to see him through the darkest of times.
"I basically did much of my own physical therapy. I went to a Native American sweat lodge," Jim said. "A friend of mine was a Native American. And he goes if you want to find peace, and healing, come with me.
"So I go into a sweat lodge and sit in there for two hours. When I came out, I bent down and touched my toes — basically no pain. I was amazed," he continued. "I said, when can we go back in?"
Jim has been going ever since. He finds it both a physical and spiritual experience. In time, when he traced his ancestry, he discovered it had connected him with his own roots — his great-great-grandmother was a Nakota.
A key aspect of the Welcome Home Veterans Program is finding gainful employment. That brought him to Horizon Goodwill in 2016. He started out hanging clothes. When the new store was opening at South End, he was asked if he would like to apply and was offered a position.
By that time, he was living in income-based public housing in downtown Hagerstown. He sometimes took public transportation, but more often, preferred to walk the mile and a half to get to his new job.
"You figure, I was in a chair for seven years, so I've got seven years of walking to make up for," he said. "If I had a choice to ride or walk, I'd walk. (The weather) didn't bother me. I went through four pairs of shoes a year."
Jim started in the South End location as a cashier. Later, he moved to the back of the store. When the store's manager changed positions and the assistant manager was promoted, Jim became the assistant manager.
Now, after five years with Horizon Goodwill — the first job he has ever had with paid vacation and sick time — he has a car and the ability to take a vacation to see his daughter and grandkids in Kansas.
"My five-year-old granddaughter, I hadn't seen since she was five months old. And I drove my car. I drove MY car," he emphasized. "It was nice. Long drive, but I did it. It was fun."
Jim finds his job empowering, giving him the ability to help others in difficult situations.
"I have a more positive outlook. I used to just roll over and wake up whenever. Now, I love waking up and helping people," he said. "We get people coming in. And (for example) their house burned down. What can they do? Or, what can we do? I don't know if Goodwill has a program for that. But I will call HR, or I will call somebody, to find out.
That feeling of community extends to his colleagues — a relationship that goes beyond mere coworkers.
"When I got sick two years ago — I had bacterial meningitis — I was in the hospital for 17 days. They told me I wasn't going to pull out of that," he explained. "If it wasn't for Penny out here — or cashiers knowing that she was a friend of my mom's on Facebook — to get them to do a wellness check, they would have never found me. I was in my apartment for 21 hours in a coma before they found me. And that's how close of a family the employees are at this store.
"And the whole time that I was out, customers were coming in asking about me," he continued. "A couple of the customers even brought in cards when I came back when they saw me."
What might the future hold for Jim at Horizon Goodwill? Perhaps responsibility for his own store?
"It's a possibility. I know it's big. There's a lot to being a store manager at Goodwill," he said.
He would be in the position to know. As the assistant manager, Jim works with the store's manager every day learning all aspects of running the location so it is in good hands when she is off.
"She knows that the store is going to be here, and everything is taken care of."