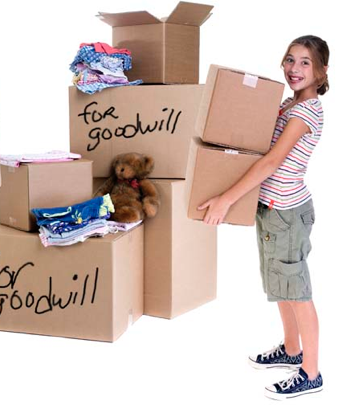 Hello again, Horizon Goodwill readers! I haven't posted in awhile, but to say it's been a bit busy since my last article is a tremendous understatement. My family and I celebrated our first Holiday Season at our new address since moving from Pittsburgh earlier this summer, and I must admit, it's been quite hectic. Relatives from out of town came to visit, multiple school pageants were held, neighborhood parties celebrated and we experienced our first Berkeley County ice storm. Yes, I'm ready for a much needed lull in the action. All I could think about yesterday at work was coming home, lighting a fire and relaxing, but my seven-year-old daughter had other ideas…..
"Where's our little diva?" I asked my wife as I stomped the snow from my shoes.
Missy didn't even look up from the stove, preparing something that I have to admit smelled awesome but was most likely a bit too healthy for my taste. "She's been up in her room since getting off the bus. The door's locked and she won't let me in. She claims she's doing her homework. Can you go up there and tell her dinner's almost ready?"
As a husband, I've learned by this point my wife's requests are more like orders, so I made my way up the steps and knocked on Kaitlyn's door.
"Honey, come on, it's time to eat!" The door opened and I felt all of the blood rush from my face. There stood my adorable little girl in what can best be described as ordered chaos: piles of stuffed animals, stacks of books, baskets of clothes, all surrounding my cute cherub.
"Kaitlyn! What is this mess? Your mom's going to totally flip out!"
"It's my homework! My teacher told the class that January is National Get Organized Month." She totally butchered the word "organized", but this was the least of my worries. "Ms. Lindsey had us all clean out our desks to make things neater. Then she told us it would be fun to do the same thing at home. I'm starting in my bedroom."
"Listen, honey, I don't think I can deal with this tonight. I appreciate you want to organize your room, I really do, but what do you plan on doing with all this stuff? You've got to put things back where they belong before your mother comes up here!"
"No, Daddy, all of this stuff is what I don't need anymore! Look at my closet!"
I navigated past the strategically placed piles on the floor and opened the closet door. It literally looked like something out of a magazine! I paid close attention as Kaitlyn explained her method of placement for all of her clothing.
"Dresses are hung on a pink hanger, jeans on blue hangers—because they're blue jeans—and my winter clothes on white hangers because it's the same color as snow!"
She proceeded to show me her alphabetized bookshelf, color coordinated sock drawer and stuffed animal corner segregated by genus and species (I'm not kidding).
"And best of all, Daddy, I want to take all of these things I don't use anymore to the Goodwill store for donation. You remember that place, don't you?"
"Yes, baby, I do. And you know what?" I couldn't help smiling. "That's a great idea!"
I picked her up, gave her a huge hug and we both went downstairs for dinner. I didn't even mind the vegetable surprise as I explained to Missy what Kaitlyn had been up to her bedroom. My wife was quick to point out something I failed to mention to our industrious daughter: "You know, Kaitlyn, not only are you doing Mommy a huge favor, you're also helping a lot of other people by donating your things."
We always remind her not talk with her mouth full, but in this case we made an exception. Devouring a forkful of spinach, our little girl showed her wisdom. "I know! We help people learn how to find good jobs when we buy stuff at Horizon Goodwill, and when we give them stuff to sell!"
Yep, we're both proud of our little girl!