Welcome to the Horizon Goodwill Industries company newsletter.
Our Mission is: Removing Barriers, Creating Opportunities.
January 2023                                                                                                             Vol. 1, Edition 7
---

Happy New Year, Horizon Goodwill Employees!
"What the new year brings to you will depend a great deal on what you bring to the new year." – Vern McLellan
As we start fresh in 2023, I am excited to see what the new year will bring. While there will always be challenges ahead, I have no doubt that we will continue to work together and support one another as we move forward.
In the coming year, we will continue to focus on helping individuals obtain equitable access to meaningful employment. We will also be exploring new opportunities to grow and expand our reach, and I am confident that with your hard work and dedication, we will be able to achieve great things.
I invite you to bring:
     PASSION for our purpose
          CHARACTER worthy of trust
               COMPASSION and empathy
                    SERVICE to others
                         CELEBRATION of success
                                      to everything you do this year.
I want to thank each and every one of you for your contributions to Horizon Goodwill. Your commitment to our mission and to one another is what makes our organization a special place to work. Here's to a successful and fulfilling year ahead!
With hope, Dave
---

Elizabeth Shoemaker: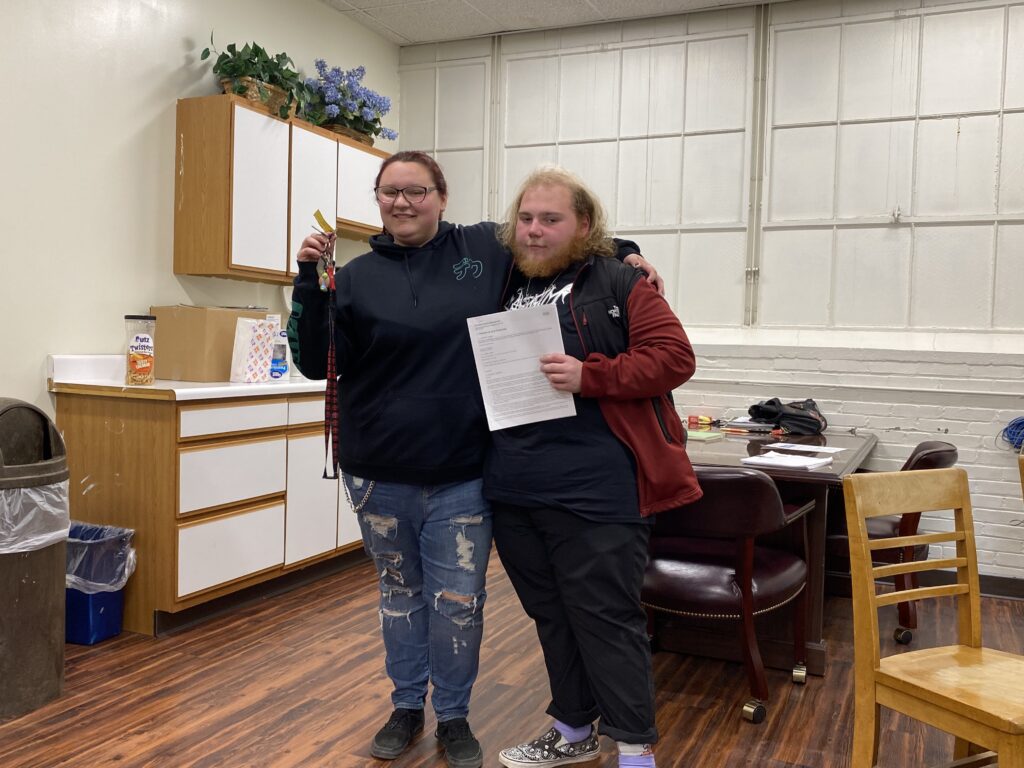 One of the individuals that work at the North Warehouse is Lizzie Shoemaker. Lizzie came through Mission services as a client and is now for HGI as a Core Employee.
"So, in August of 2022, I lived with my family. We lived in the downtown area for about eight years," she explains. "The landlord and his wife were getting divorced, and they decided to sell the house we were living in — a duplex. And it was sprung on us at the last minute."  With three little brothers ready to go back to school, Elizabeth, who goes by Lizzie, knew her mother was in a bad situation. "I remember I came home from the library one day, and mom's like, we need to have a conversation," she said. "And she's just like; I have to worry about getting a place so the boys can start school." The goal was to get something for all of them, but Lizzie knew her brothers had to be the top priority.  "And there was nothing wrong with that, you know because it was right before school started. And I didn't know what to do," she said. Read her full story here.
YOU are making a difference in the lives of many people. Here is your impact through November 2022: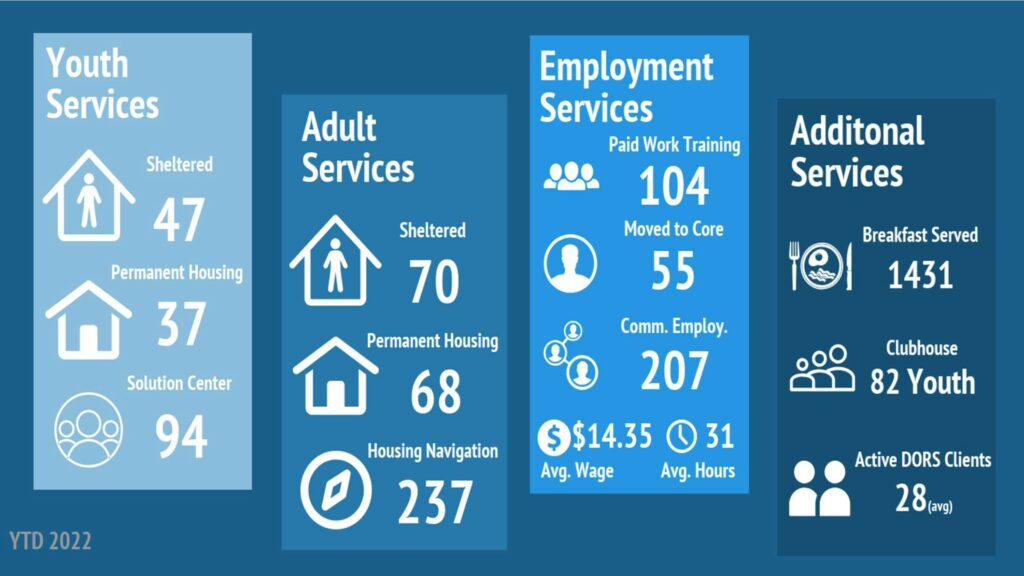 ---

One of the things that many people don't know about the Business Services Department is that they have a facility at Corporate Center called the North Warehouse.
The North Warehouse's largest customer, Ceramcor, will close out 2022 ahead of last year by approximately 20%, breaking all previous records for orders shipped. Twice as many items [pallets] are being warehoused than any other year, and Customer Service involvement exploded by 50%. The North Warehouse is located at the Corporate Center in Hagerstown, MD.  One of the projects that were just completed is the annual "monster" calendar project that we process for HBP (local printing company), which employed 17 different individuals, and concluded in December.
One of the individuals that work at the North Warehouse is Lizzie Shoemaker. Lizzie came through Mission services as a client and is now for HGI as a Core Employee. Her story is above in the Mission section.

---

Last month, an announcement was made about the change in the jobs of Chris Glasse, Lance Crossman, and Angie Engle. This month we'll go into a little more information regarding Lance and Angie since their jobs are related to Donated Goods & Retail, also known in the Goodwill World as DGR.
Lance Crossman is now the Director of Donated Goods & Retail (DGR)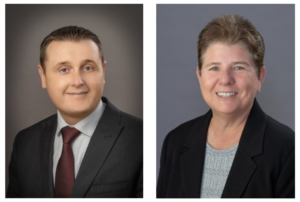 By aligning DGR (the team can work closely together to streamline collaboration and cooperation throughout the departments. Retail, as we all know it, will now include the support functions like Transportation, Donated Goods, Donor Acquisition, and E-COMMERCE. Working together as one team, the Retail division will focus on moving towards common goals. We are in the process of performing a territory assessment in partnership with Goodwill Manasota. The territory assessment will provide critical information needed to drive our Retail operations forward. We are excited about the new possibilities this alignment opens up and look forward to working closely with each store to empower and support all locations!
Angie Engle is the Associate Director of Donation Acquisition
Angie will work collaboratively with the DGR team and others within the organization to support existing donation acquisition strategies. She will also be responsible for identifying and establishing new donation streams, business opportunities, and interagency partnerships, focusing on making HGI the most convenient and preferred recipient for community donations. She'll use territory demographic and donation data to identify, develop, and implement strategies to generate new donations. As the Associate Director of Donation Acquisition, she'll support and grow the existing donation streams, including retail stores, attended donation centers, unattended donation bins, events, and home/business pickups. She'll also track donations across all methods and work to improve data collection methods continuously.
---

Human Resources Additions
You may have already been in contact with one of these people, but here is the formal introduction to those who have joined the HGI team:
Nicole Matherly: Nicole has joined the HR Department as a Resource Coordinator. Before joining the team, Nicole was an assistant manager in the Greencastle, PA, retail location. Nicole has a passion for helping others and brings prior experience working with individuals in the Human Services field. At home, Nicole is a mother to an active preschool-aged son and enjoys spending all their free time together.
Annette Wetzel: Annette has joined the HR Department as an HR Generalist. Annette has prior human resources experience and is looking forward to bringing her organizational skills to HGI. Annette enjoys spending her free time with friends and family.
Teresa Mendoza: Teresa has joined the HR Department as a Resource Coordinator. Teresa had previously worked as a case manager here at HGI and has returned for a new opportunity to help employees. Teresa has extensive experience in the Human Services field. She is a certified addiction counselor passionate about helping others overcome barriers to success. Teresa enjoys spending time with her family and her dogs and gardening.
Kenneth Winebrenner Jr.: Kenneth has transferred positions with the HR Department to become an HR Generalist. Kenneth has worked as a case manager and resource coordinator. He is looking forward to obtaining certifications in the Human Resources field. Kenneth enjoys nature's creatures of all shapes and sizes. He has multiple lizards and spiders in his home and is a beekeeper! He is learning how to make products from honey and beeswax.

As a reminder, utilize "Ask Here" in Paycom ESS (Employee Self-Service) to connect you to a Resource Coordinator. Access our EAP (Employee Assistance Program) on the BHS Portal online or via the app at portal.BHSonline.com Username: Horizon Goodwill or call 800-327-2251.
---
December's Living Our Values Award is given to any "TEAM" that demonstrates qualities of teamwork and loyalty to Horizon Goodwill Industries. The team must demonstrate support for each other and have confidence in the abilities and intentions of each team member. They are successful in working together towards a common goal. "Team" is defined as any group of people working together for a common goal or project.
Winner: 
The Transportation Team!  Since the team operates seven days a week and in different areas of the HGI Territory, not everyone is at the warehouse at one time.
In this photo are (L-R) Melvin Barnett, Lamar Williams, Janice Smith, Bob Merica, Will Cain, David Stephens, and Chuck Davis. Not pictured: Wayne Lloyd, Tyrone Glover, Dale Weaver, Rob Hansen, Karron Newman, and Ken Little.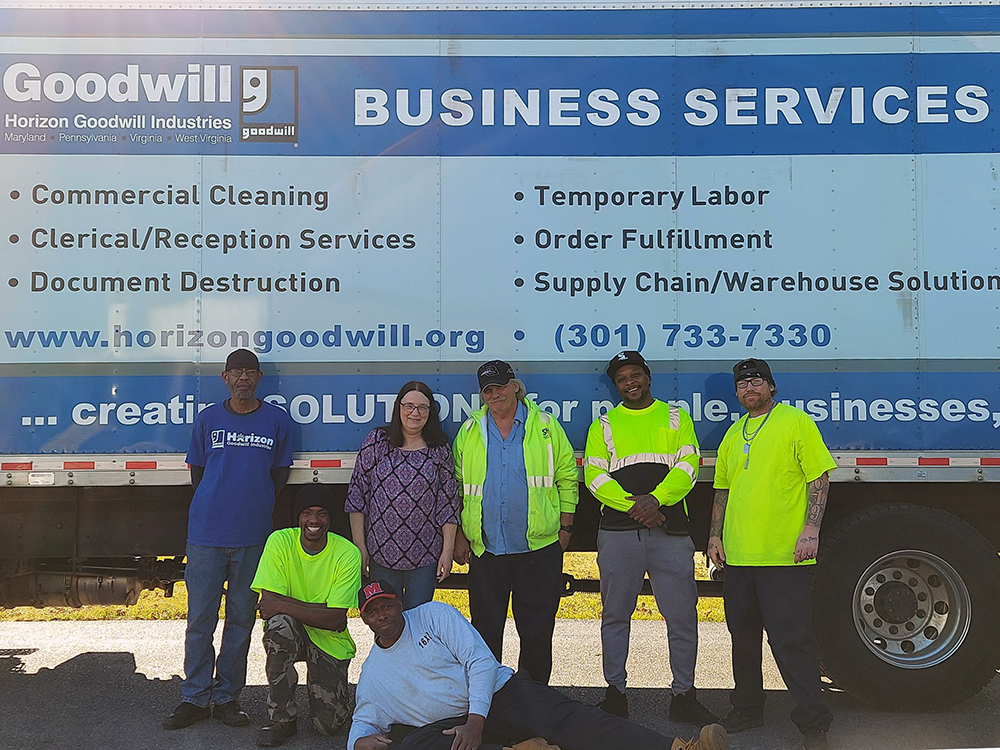 Keep an eye out in Paycom for the next Living Our Values Award. The nomination survey will be coming later this month!
---
Milestones & New Hires
Congratulations to the following people for reaching a great milestone, and a big 'Welcome' to our newest team members as they begin their journey to their milestones!
New Hires
Name
Date
Name
Date
Lily Shepherd
30-Nov
Lance Grauel
13-Dec
Nickolas Alleman
30-Nov
Eugene Swope Jr.
13-Dec
Rachel Brinkmeier
30-Nov
Kenneth Colvin
13-Dec
Brenda Cox
30-Nov
Ezekiel Jones
15-Dec
Karen Carey
30-Nov
Talithia Belasco
15-Dec
Naeemah Powell
30-Nov
Elijah Keys
15-Dec
Abigayle Dean
30-Nov
Sarah Salyards
16-Dec
Caleb Goree
30-Nov
Phillip Glasper
16-Dec
Pamela Coates
30-Nov
Felicia Copeland
16-Dec
Alexander Fingrutd
30-Nov
Cody Hayes
16-Dec
Kelly Tabler
1-Dec
Amber Park
16-Dec
Jack Twietmeyer
1-Dec
Randolph Largent
16-Dec
Andre Johnson
2-Dec
David Young
16-Dec
Baby Gallegos
2-Dec
James Robinson
16-Dec
John Hart
3-Dec
Marlyn Knighton
19-Dec
Tyler Anderson
5-Dec
Kameron Frey
19-Dec
April Awad
5-Dec
Jordayn Newman
19-Dec
Anthony Strange
6-Dec
Jennifer Strum
19-Dec
Mona Pitt
8-Dec
Rachel Rodbell
19-Dec
Robert Pettaway
8-Dec
Matia Swan
19-Dec
Europe Scottland
8-Dec
Kayla Cox
20-Dec
Roni Stotler
9-Dec
Michael Safford
20-Dec
Rashel Bumbaugh
9-Dec
Shelden Foster
20-Dec
Elizabeth Longerbeam
12-Dec
Tanya Daye
21-Dec
Vida Gatling
12-Dec
Brandon Bryant
21-Dec
Kimberly Scism
13-Dec
Johnny Richards
21-Dec
Kenneth Markley
13-Dec
Thomas Eggleston
22-Dec
Jessica Lamberson
13-Dec
Christopher Emerson
27-Dec
Ashford Randolph
13-Dec
Darlington Bright
28-Dec
Dakota Davis
13-Dec
Troy Wolfe
28-Dec
Eric Jaffe
13-Dec
Tadele Gezahegn
28-Dec
Daniel Bryson
13-Dec
Anniversaries
Serena Brown
HGI-2
Mission Services
1 Yr
Christian Klipp
Fort Detrick
Business Services
1 Yr
Owen Carbaugh
HGI-2
Business Services
2 Yrs
James Stimmell
SHA Keyers Ridge
Business Services
2 Yrs
Essie Brown
Corporate Center
Donated Goods Retail
3 Yrs
Stephen Bledsoe
Corporate Center
Administrative Services
4 Yrs
Pamela Sweitzer
Cumberland UPIP
Mission Services
19 Yrs
---
Upcoming Events
No events schedule for January
Thank you for reading the Horizon Goodwill Industries newsletter. If you have any exciting news or story suggestions, please get in touch with us at marketing@goodwill-hgi.org.