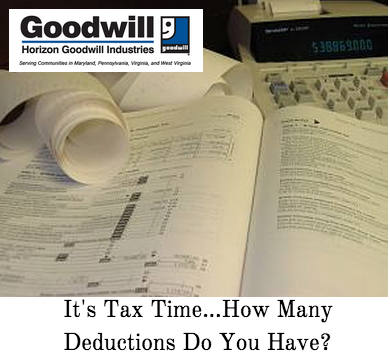 As if the inclement weather isn't enough to just ruin your day, you've just received your W-2 forms from your employer. Yes….Tax Time is here once again. Maybe some of you actually look forward to this time of year, anxious and eager to gather last year's records, sharpen your Number 2 pencils, blow dust off that adding machine you've had since 1992 and get started with the number crunching.
For most of us, however, it's a painful chore to itemize deductions, download Turbo Tax or schedule an appointment with H& R Block, only to discover you owe the IRS even more of your hard-earned dough. Let's take a look back at 2014 and see if you can reap the benefits of your past generosity.
Your Donations Are Tax Deductible
Did you know that the items you donate to Horizon Goodwill are eligible for a tax deduction? Yep, whether you cleaned out your closet and donated old clothes or finally decided to upgrade your living room set while finding your old sofa a new home, you can claim deductions to the extent permitted by law. Make sure you keep your receipts, you'll need them when you file! Of course you must consider the age and condition of the items donated; all products must be in good condition to be deducted. Additionally it's very important to consult with your tax advisor prior to listing these deductions. For more information please visit www.irs.gov.
Can I Claim My Donated Vehicle As Well?
Absolutely! In fact, it may be more beneficial to you to donate your vehicle than to trade it in. Of course the process of donating your car to Horizon Goodwill is different say than donating kitchen appliances, but just as easy and rewarding!
Click Here To Donate Your Vehicle To Horizon Goodwill
Plus, as if organizing your closets, garage and kitchen isn't enough of a benefit, on top of being able to claim deductions on your taxes, there's one even better reason to donate!
Did you know that ninety percent of every item you donate to Horizon Goodwill that gets sold goes towards job training and other programs to help your friends, neighbors and community members? It's a win-win-win for everyone!
If you never got around to keeping records of your donations last year, it's not too late to get organized for Tax Time 2015!