Integrating the Soft Style Trend into Your Child's Back-to-School Wardrobe
by Felicia Czochanski
Soft Style has been trending this year, making Easter basket pastels an all-season look. Synchronous with preppy and inspired by vintage brands like Limited Too and Juicy Couture, Soft Style continues to trend for Gen Z and the younger generations. Waiting in line to meet the teacher on the first day, parents will be sure to see children in preppy plaids and softer looks with pops of color. By shopping at Goodwill, bringing this trend into your child's wardrobe will be affordable and the perfect time for a parent-child shopping outing together before the frenzy of a new school year.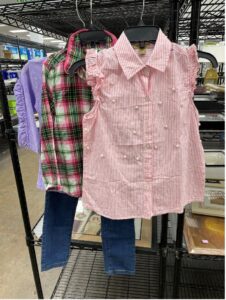 As any parent knows, the younger the child, the quicker they seem to outgrow their clothes. It can be rare for a child to fit in the same clothes they wore the year before, and as a result, it can feel like shopping for new clothes is constant. That's why shopping at Goodwill is the perfect solution – not only for donating clothes that your child may have outgrown, but also for shopping for like-new, or oftentimes even brand new clothes for a fraction of the cost. I took a trip to my local Goodwill store in Brooklyn, NY, and wanted to share some outfit inspiration below for any parents looking to start sourcing their child's back-to-school wardrobe. Somehow, the new school year is just around the corner!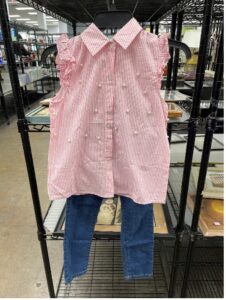 Pearly Girl: When I saw this adorable 100% cotton top, I fell in love. It looks like a J.Crew mini-me look and is the perfect special top to wear on the first day of school to make a great first impression. The soft pink color of the stripes keeps the shirt on trend, while the ruffled sleeves and pearl embellishments give it a statement look. You can have your child pair this with their favorite jeans or khaki pants for the perfect Soft Style first-day look.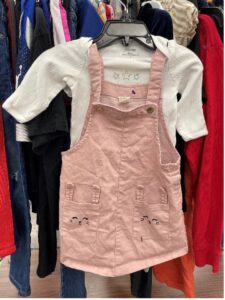 Jumper Dress: Jumpsuits and overalls aren't just in for Gen Z – your children can wear these looks too from a Soft Style perspective, like this mauve jumper with adorable bunny pocket detailing above. I paired it with a three-quarter sleeve white bodysuit underneath to stick with a more neutral look, letting the pink of the dress stand out as the statement color of the outfit. When it comes to getting your child through the day, let comfy and cute be your guide in selecting an outfit.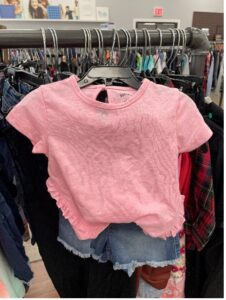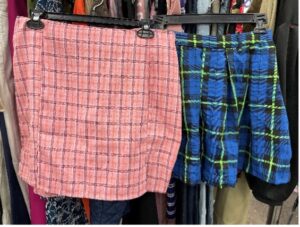 Soft Style for Middle Schoolers: If your child has graduated into secondary school, Soft Style can still be for them. Let your child select some new t-shirts that stick with the trend, pastels like on the pink Buffalo David Bitton top above with ruffles on the sides, and a pair of comfortable and dress code-appropriate denim shorts. You'll also start to see some throwbacks from perhaps when you were in middle school (I know, I can't believe it either!) with looks based around plaid skirts and even skorts in bright and light colors. If you're lucky, you might even find a vintage Limited Too version that was just like what you might have worn back in the day.
We want to see your child's first day of school outfits sourced from Goodwill! Be sure to tag us @horizongoodwill in your photo or reel on Instagram for a chance to be featured.