What is grit?  I'm glad you asked!  According to the Merriam-Webster dictionary, grit in the context of behavior is defined as "firmness of character; indomitable spirit."  Who do you think of when you hear the word?  Trying saying it out loud – I'll wait……..did you do it?  Who came to mind?  For me, it's Eric Fugate.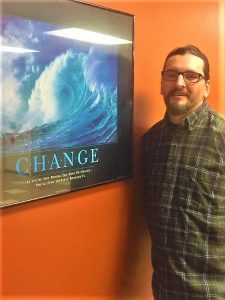 Eric came to Goodwill in 2015, and enrolled in paid work training in 2016.  He moved to Cumberland from Baltimore with all intentions of straightening up and putting his life back together.  He came to Western Maryland with nothing but a book bag filled with all the belongings he owned. Eric entered the program with high expectations and has achieved almost everything he set his mind to, working hard to overcome those behaviors that had put his life on hold.
Eric had no job and had spent time in jail, struggled with addiction, and lost his driver's license.  Eric's confidence has improved and he is seeking employment. He now has his own apartment and is once again a licensed driver. Eric even reconnected with his son again. He has been off probation and is no longer using the methadone clinic.
Addressing his barriers to employment, Eric is attending the G.E.D. classes offered at Goodwill's Career Readiness Campus to obtain his diploma.  And, he is using Goodwill's Legal Expungement & Assistance Program, or LEAP, to remove eligible activity from his criminal record.
Last fall, I spent time with Eric a few weeks after my father passed away.  I learned he had lost his father very recently as well.  We sat quietly for awhile.  Sharing a few things about ourselves before we moved on to the rest of our day.  What had I just seen in Eric – what was that?  It was grit – a vulnerability and a determination woven together creating a quiet momentum forward.
It was and still is inspiring to be around him or to hear people talk about Eric's progress, achievements, and future.  When asked how he does it, how he overcomes, Eric said, "I couldn't have improved myself without the services and support Goodwill has given me."  But, Goodwill doesn't give you grit – Goodwill helps you find it inside yourself.
Teddy Roosevelt, a "Grand Sire of Grit", spoke about the importance of overcoming fear and managing vulnerability in 1907.  He stated:  "It is not the critic who counts; not the man who points out how the strong man stumbles, or where the doer of deeds could have done better. The credit belongs to the man who is actually in the arena, whose face is marred by dust and sweat and blood; who strived valiantly; who errs, who comes again and again, because there is no effort without error and shortcoming; but who does actually strive to do the deeds; who knows great enthusiasms, the great devotions; who spends himself in a worthy cause; who at the best knows in the end the triumph of high achievement, and who at the worst, if he fails, at least fails while daring greatly."
To learn more visit www.horizongoodwill.org and as always like us on Facebook and follow us on Twitter #puttingpeopletowork